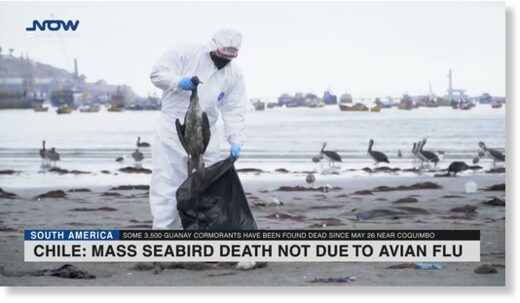 Early tests indicate that the recent mass death of thousands of seabirds along Chile's northern coast were not caused by avian flu, authorities said Friday.
Some 3,500 Guanay cormorants -- once known as the "billion dollar bird" for their connection to the European fertilizer industry -- have been found dead since May 26 near the coastal port of Coquimbo, according to Chile's Agricultural and Livestock Service (SAG).
Workers in biohazard suits collected hundreds of the dead cormorants, with their distinctive black-and-white coloration, along beaches in sight of restaurants and hotels.
Initial tests on the dead birds did not reveal presence of avian flu, which has wracked other parts of Chile, Jorge Mautz, regional director of the service, told AFP.
Residents of Coquimbo voiced surprise at the mass seabird deaths.
"It's never been seen before. The mortality of these birds is impressive," Edison Alfaro, a 47-year-old fisherman, told AFP.
Mautz said "something is happening in the sea" that is causing the death of the birds that feed each day in Pacific waters.
The Guanay cormorant holds a place in history books. The once-abundant species was a huge producer of guano on islands off Peru's coast, where the birds nested, in the 19th century, generating huge sums of money for European merchants trafficking in guano for use as fertilizer.
Over decades, millions of tons of guano were shipped to Europe, and guano became the main source of Peru's income in the latter half of the 19th century.
The extraction was so heavy that it destroyed breeding habitats for the cormorants, triggering a sharp decrease in their population.
Today, the Guanay cormorant is considered a threatened species.
Source: AFP