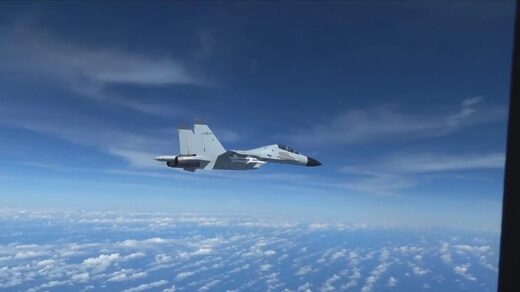 The US Indo-Pacific Command said on Tuesday that a Chinese J-16 fighter jet pilot performed an "'unnecessarily aggressive maneuver" while intercepting a US Air Force RC-135 aircraft over the South China Sea last week.
A release issued by the command states the Chinese fighter pilot
"flew directly in front of the nose of the RC-135, forcing the US aircraft to fly through its wake turbulence."
"A People's Republic of China J-16 fighter pilot performed an unnecessarily aggressive maneuver during the intercept of a US Air Force RC-135 aircraft, May 26, 2023," the statement reads. "The RC-135 was conducting safe and routine operations over the South China Sea in international airspace, in accordance with international law."
The release goes on to underscore that despite the incident, American forces will continue to carry out its operations in international waters. "We expect all countries in the Indo-Pacific region to use international airspace safely and in accordance with international law,"
the release concludes.

Comment: Just because one should legally be allowed to do something, it doesn't mean that one should, particularly given the current situation.


The RC-135 aircraft is colloquially known as a spy plane, and came into use in the early 1960s during the Cold War.
The US Air Force describes the plane as having the ability to collect "near real time on-scene intelligence."
The Tuesday announcement also included video footage of the incident.
The buzzing incident comes months after US and Chinese militaries blasted one another in January over what each party perceived as unsafe air encounters over the South China Sea. At the time, Chinese officials indicated the US military "deliberately mislead public opinion" after its RC-135 carried out an "intentional close-in reconnaissance" of the disputed Paracel Islands.
The South China Sea is a highly-contested area as China has maintained territorial disputes with Taiwan, Indonesia, Malaysia, Vietnam, the Philippines and Brunei. The decadeslong maritime dispute specifically centers around islands in the region that have significant, untapped reserves.