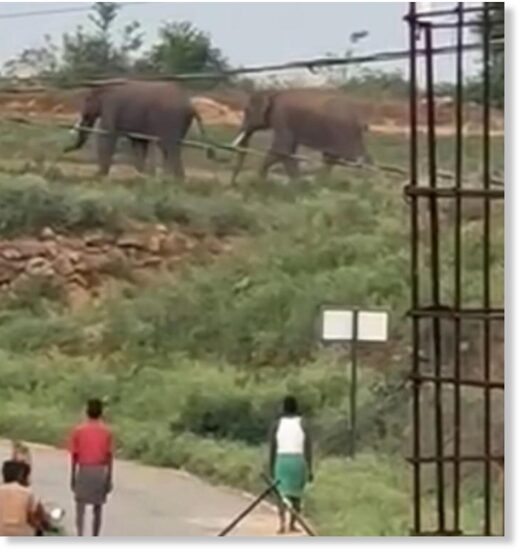 A woman and an elderly man were trampled to death while two women were injured in an attack by wild elephants in two separate incidents in Kuppam mandal in the early hours of Friday.
According to forest officials, in the first incident, a woman was trampled to death while two others escaped with injuries when two wild elephants attacked them close to the Mallanur railway station in Kuppam mandal.
The deceased, identified as Usha, 36, a daily wager, used to shuttle between Mallanur railway station and Bengaluru. She was on her way to board a train along with the other two women from their village of Parthichenu when two jumbos charged at them. Usha was trampled to death while her two companions narrowly escaped with minor injuries after taking cover in a thicket.
The deceased woman is a widow, survived by three children. Her son, who is 17, works at a bakery while her daughter, who is 15, is a school dropout. The eldest daughter is married.
In another incident, the same jumbo duo fatally attacked a farmer,
identified as Siva Lingaiah, 65, of Sappanikunta village in Kuppam mandal, a few yards from the Mallanur railway station, while he was on his way to a tea stall at around 4.30 a.m. Based on the injury marks found on his body, officials suspect he was first trampled before being lifted and flung into the bushes by the elephants. As the body was flung into thick foliage, it was found only several hours later by passersby.
Dangerous duo
Forest officials said that at present both the wild elephants are on the prowl on the outskirts of Kuppam. The forest officials are on alert after coming to know that the same jumbo duo was responsible for the death of two farmers near Krishnagiri in Tamil Nadu a few days ago. After fatally attacking the farmers there, the two elephants crossed into the Kuppam range. In addition to the duo, a 14-member herd is found roaming along various directions on the southwestern parts of the Koundinya elephant project sanctuary.
Given the proximity of the wild elephants to the railway track on the Chennai-Bengaluru section, the forest officials had sought the railway authorities to keep surveillance on the traffic. Senior forest officials are monitoring the situation. The bodies of the deceased were shifted to the Government Hospital in Kuppam for an autopsy.