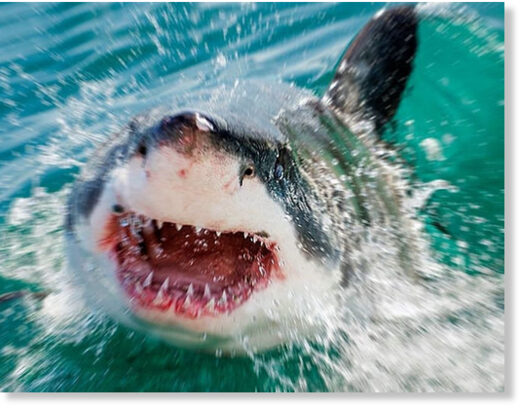 Authorities are searching for a 46-year-old missing surfer who is believed to have died after a shark attack on the west coast of the Eyre Peninsula in South Australia.
"A man is believed to have died following a shark attack," police said in a statement, adding that he was the only person to be attacked.
The man from Elliston was surfing at the Walkers Rocks Beach on the Great Australian Bight when he was attacked 30 to 50 metres offshore.
Police and paramedics were called to the beach about 7km north of Elliston after 10am (local time) on Saturday.
Over half a dozen boats and jet skis were pressed to search for the "well-known" local where he was last seen, Australian Broadcasting Corporation reported.
According to authorities, there were at least 16 other people in the vicinity at the time and some of them witnessed the attack.
"There were obviously several people in the water and from what I can hear there were witnesses that saw evidence of the attack," State Emergency Service (SES) unit manager Trevlyn Smith said.
"It was fairly close to the shore I believe."
The man's surfboard has been retrieved, Mr Smith said.
"We were told that they had recovered the surfboard, by [a searcher on] a jetski as I understand, and then that was transferred onto one of the local vessels.
"We've got a missing person, they've already got the surfboard ... we're just looking for anything that relates to [that] person," he added.
Mr Smith added that the entire community would be shocked and devastated by the incident since there hasn't been a "shark attack here on this coastline for over 20 years".
Elliston, with a population of about 1,000, is known for its nearby rugged coastline and popular surfing spots.
The attack follows the death of a 16-year-old girl, who was mauled by a shark in a river in Perth, the capital of Western Australia. The girl was attacked by a shark while she was swimming, the first fatal attack in the Swan River since 1923.
In February 2022, a British expat became the victim of the first fatal shark attack in Sydney since 1963. Simon Nellist, a 35-year-old diving instructor from Cornwall, was mauled by a Great White Shark at a fishing spot near Little Bay.