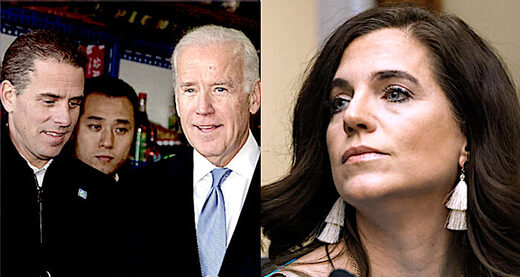 Republican representative Nancy Mace (S.C.) said Wednesday that she reviewed "over 100 suspicious activity reports on the Biden family," which show the Bidens' business dealings with "astronomical" sums of money.
Mace said in a
video
posted to Twitter:
"Every time you unturn, overturn, or look under a stone, there's so much more you have to investigate. Not only do the reports show 'astronomical' amounts of money, but they also detail the source of the funding, where the money's going, the shell companies, prostitution rings, etc. It's insanity to me that it's not been investigated in the way that it should be."
Mace and other members of the House Oversight Committee on Monday examined
suspicious activity reports
that banks sent to the Treasury Department
flagging potential criminal activity in transactions involving President Joe Biden's family.
The committee's chairman, Rep. James Comer (R., Ky.),
said
afterward that
nine Biden relatives
may have benefitted from the family's business schemes,
six more than were previously implicated.
"The Biden family enterprise is centered on Joe Biden's political career and connections, and it has generated an exorbitant amount of money for the Biden family."
The committee is investigating the first family's murky business dealings. Comer said last month that
Biden "lied to the American people" about a Chinese company's payments to first son Hunter Biden.
The committee's investigation has determined that
the Chinese company made payments to the president's brother, son, and daughter-in-law,
the Washington Free Beacon
reported
.
After "two months of dragging their feet," according to Comer, Treasury Department officials released the suspicious activity reports, which banks filed against Biden family members, last month. Comer also announced in March that, following a Free Beacon
report
, the committee is talking to a think-tank executive who
says
the Bidens warned a Chinese businessman about a looming federal investigation, allowing the businessman to flee the country.
Evidence shows that Hunter Biden's suspicious business partners had extensive dealings with Joe Biden,
Mace
said
last week. "This is corruption at its core," she told Fox News.