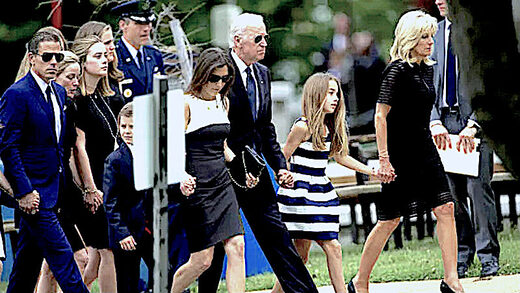 House Oversight Committee Chairman James Comer has revealed that there are not three but
nine members of the Biden family
that may have benefitted from suspected influence peddling efforts. For those of us who have long criticized the corrupt practices of the Biden family, the identity of these other family members is intriguing after the Committee secured new bank and financial records. Democratic members again insisted that
there is no need to investigate such influence peddling.
The new information on the Biden family is due largely to the takeover of the House by the GOP.
Previously, Democrats blocked efforts to investigate influence peddling by the Biden family for years.
After assuming control of the Committee. Comer sought
suspicious activity reports
sent by banks to the Treasury Department
alerting of
potential criminal activity in transactions
involving President Biden's family.
He stated on Monday:
"We've identified six additional members of Joe Biden's family who may have benefited from the Biden family's businesses that we are investigating, bringing the total number of those involved or benefiting to nine."
Those six names are in addition to
three Biden family members
and two associates previously linked to payments from China in 2017.
Three million dollars were wired to Biden family associate Rob Walker in March 2017, who then allegedly divided and distributed the funds later.
There remains an
"Unknown Biden"
who received four payments in 2017 totaling $70,000.
The investigation into the Bidens has made many in the Beltway uncomfortable. Influence peddling has long been the favored form of corruption in this city, but
few families seem to have cashed in to the extent of the Bidens.
I frankly do not understand the willingness of so many Democrats to cover for the Bidens.
Democratic members have gone all in with censorship, but this is an effort to scuttle investigations
into corruption that may have resulted in millions of dollars going to Biden family members.
The Biden family has long been associated with influence peddling to the degree that they could add an access key to their family crest. Influence peddling has long been a cottage industry in Washington. For decades, I have written about this loophole in bribery laws. It is illegal to give a member of Congress or a president even $100 to gain influence. However, you can literally give millions to their spouses or children in the forms of windfall contracts or cozy jobs.
James Biden has been remarkably (even refreshingly) open about marketing his access to his brother.
Former Americore executive Tom Pritchard and others allege that Biden openly referenced his access to his brother and his family name in his pitch for clients. James has faced
a wide array of litigation over allegedly fraudulent activities
as well as a personal loan acquired through Americore before it went into bankruptcy.
Hunter worked with his uncle but also branched off on his own in the family business. While his father recently emphasized that his son was a hopeless addict, that defense stands in glaring contradiction to the fact that
he maintained a multimillion-dollar influence-peddling scheme.
The question is why foreign figures (including some associated with foreign intelligence) made these money transfers and complex deals worth millions from Moscow to Kyiv to Beijing.
However, the Biden most concerned may be the president himself.
Joe Biden has repeatedly denied knowledge of Hunter Biden's business entanglements despite numerous emails and pictures showing him meeting with Hunter associates. That includes at least 19 visits to the White House by Hunter's partner, Eric Schwerin, alone between 2009 and 2015.
Emails on Hunter Biden's laptop make repeated reference to his father as a possible recipient of funds derived from influence peddling. Indeed, in one email, Tony Bobulinski, then a business partner of Hunter, was instructed by Biden associate James Gilliar that the Bidens wanted to avoid such references:
"Don't mention Joe being involved, it's only when u [sic] are face to face, I know u [sic] know that but they are paranoid."
In discussing these deals,
Joe Biden is referenced with code
names such as "Celtic" or "the big guy." In one, "the big guy" is discussed as possibly receiving a 10% cut on a deal with a Chinese energy firm. There are also references to
Hunter paying off the bills of his father from shared accounts
. From his board memberships to venture deals to legal fees to his art deals,
Hunter Biden is a tour de force of alleged corrupt practices used in Washington.
Many Democrats and legal experts have objected that influence peddling is not a crime. However, it is corrupt and squarely within the oversight authority of Congress.
Indeed, if it is not a matter for criminal charges, such congressional action may be the only way to force accountability for corrupt efforts to sell influence and access.