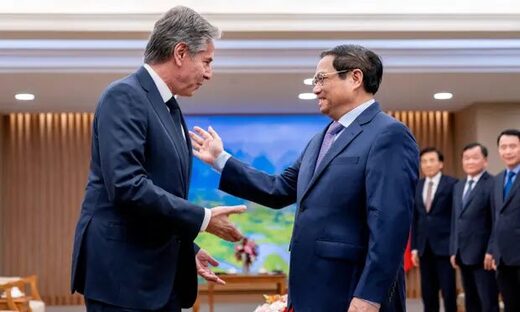 US Secretary of State Anthony Blinken is visiting Vietnam, where he will delve into the diplomatic tussle between Vietnam and China over the right to develop oil and gas reserves off Vietnam's coast in the South China Sea .
Blinken's visit was preceded by a March 29 phone call between US President Joe Biden and the leader of Vietnam's ruling Communist Party, Nguyen Phu Trong, in which they agreed to expand bilateral cooperation.
The United States is counting on a reduction in Russian arms purchases by Vietnam and other countries, said one of US Secretary of State Anthony Blinken's aides.

Comment: According to some commentators, the visit isn't going particularly well:



"This development would be consistent with US law," Assistant Secretary of State for East Asian and Pacific Affairs Daniel Kritenbrink said.
Blinken is going on a trip to Asia, during which he will visit Vietnam and Japan.
Japan will host a meeting of G7 foreign ministers, to be held in the Japanese city of Karuizawa from April 16-18.
"We need partners like Vietnam to diversify their defense purchases away from Russia,"
Kritenbrink said.
According to Kritenbrink, the United States has made its position clear to its allies and partners.
This year
marks the tenth anniversary of the U.S.-Vietnam comprehensive partnership
, and the two countries are discussing how to take their relationship to the next level of strategic partnership.
Vietnam maintains comprehensive strategic partnerships with Moscow and Beijing.
Hanoi is simultaneously trying to maintain a historically difficult relationship with China, bilateral ties with a related Russia, and
mend its relationship with the United States, an enemy defeated less than 50 years ago
.
These conflicts of interest can be a test of the "three NOs" of Vietnamese foreign policy: no alliances with other countries against a third country, no military alliances with other countries, and no military bases on its territory.
Colin Koh, a maritime security researcher at the S. Rajaratnam School of International Studies at Nanyang Technological University in Singapore, told media he believes Hanoi should strike a balance between Russia and the West and should not be perceived by Moscow as too leaning towards the West because of the war in Ukraine.
"It at least contributes to Russia's acceptance of Vietnam's current position on the war in Ukraine," the expert said.