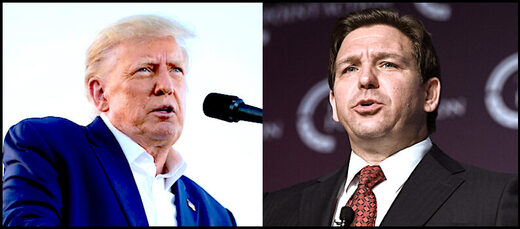 Support for former President Donald Trump is continuing to increase within the GOP primary for the 2024 election, gaining the majority of support from Republicans, while many Democrats hope President Joe Biden is in his last term.
A recent Fox News
survey
found that Trump received 54% of the vote when respondents were read a list of 15 declared and likely Republican candidates, doubling his lead over Gov. Ron DeSantis (R-FL). In March, Trump held a 30-point lead over DeSantis (54%-24%) compared to a 15-point lead in February (43%-28%).
Of those who supported Trump in 2020, 60% will support him in the 2024 primary, while 25% pick DeSantis and 5% pick former Vice President Mike Pence.
When asked who their second choice would be, Trump primary voters said they would back the Florida governor over the former vice president, and DeSantis supporters said they would vote for Trump.
This latest poll continues a trend of the former president growing his support base, particularly boosted by the news that he could be
indicted by a Manhattan grand jury
over a hush money payment given to porn star Stormy Daniels. Several Republicans hoping for a fresh start in the 2024 election are starting to
come to terms
with the idea that Trump may be the party's nominee for the White House.
Republican pollster Daron Shaw, who conducts Fox News surveys with
Democrat Chris Anderson
, said to the outlet:
"The rumor that Trump is going to be indicted by the district attorney in Manhattan has helped him quite a bit among Republican primary voters. They view the case as politically motivated, and it reanimates feelings that Trump is still fighting forces they see as corrupt and out of control."
Other GOP contenders mentioned in the poll failed to reach double digits. Pence came in third - after Trump and DeSantis - with 6%, followed by former Rep. Liz Cheney (R-WY) and former Gov. Nikki Haley (R-SC) with 3%. Gov. Greg Abbott (R-TX) pulled 2% of the vote, with all others receiving 1% or less.
Haley and tech entrepreneur Vivek Ramaswamy are the only Republicans other than Trump to announce a bid for the White House in 2024. Support for Haley dwindled from 7% in February to 3% in March, according to the poll.
Heavy speculation about the 2024 election surrounds DeSantis and former Gov. Chris Christie (R-NJ),
as they are expected to announce their entries into the race sometime within the next few months.
On the other side of the aisle,
52% of Democratic primary voters hope to see someone other than Biden as the Democratic nominee in 2024.
About 44% of respondents hope to see the president secure a second term, for which he has not announced a bid yet.
"We haven't seen much movement at all in attitudes towards Biden this past year,
but what we have has been positive,"
Anderson said. "He's holding the line and slowly bringing more people into the fold."

Comment: Right. Who does he think he's fooling...besides Biden himself!