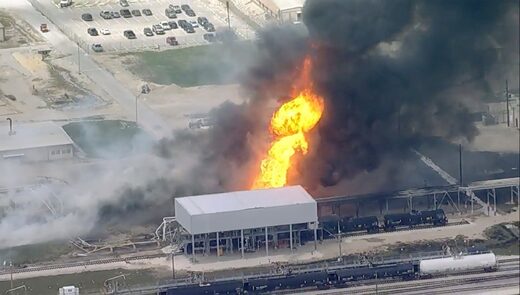 A huge explosion at a chemical manufacturing plant in Texas was caught on video Wednesday afternoon, sparking a blaze that sent black smoke into the sky before being extinguished.
The incident happened in Pasadena, outside of Houston, at a plant operated by the chemical multinational INEOS, KHOU
reported
.
A video appearing to show the explosion and its aftermath from multiple angles was shared on social media.
The city of Pasadena announced at 1:17 p.m. local time that the fire was extinguished and no "protective measures" were necessary for area residents.
One person was transported to a hospital, according to Harris County Sheriff Ed Gonzalez. Authorities said during a press conference that
the explosion happened when liquid petroleum gas was being moved from one tank to another
, Click2Houston
reported
.
The INEOS plant in
Pasadena is the largest standalone plant in the world focused on producing cumene,
according to
the company's website. Cumene is a building-block chemical used in various petroleum products.
Consisting of 36 individual businesses and operating in 29 countries, INEOS manufactures petrochemicals, speciality chemicals, and oil products,
according to
its website.
The chemical is "moderately toxic,"
and short-term inhalation can cause headaches, dizziness, drowsiness, incoordination, and unconsciousness,
according to
PubChem.
The incident
came less than two months after an Ohio train derailment saw train cars of chemicals deliberately burned
, sending a smoke plume over the town of East Palestine that has left residents there with lingering health and environmental concerns.
It also followed
a major explosion
at a manufacturing plant in northeast Ohio Feb. 20, which injured more than a dozen people
and sent debris flying at buildings and cars.