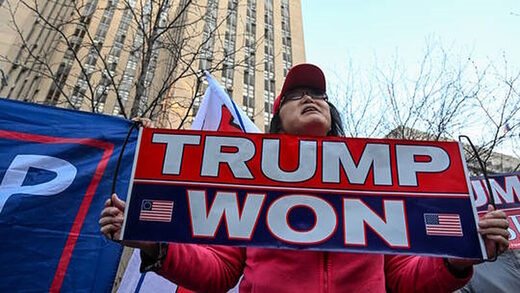 The former US president posted footage on Truth Social, warning Americans it would be in their best interests to stand up for him
Former US President Donald Trump rallied his supporters with a video posted on Monday night to his Truth Social platform, condemning the "four horrible, radical left Democratic investigations" that have not yet managed to sink his political career.
The video came days after Trump warned he would soon be arrested on charges stemming from the Stormy Daniels scandal, in which his former lawyer Michael Cohen allegedly paid hush money to the porn actress.
In the video, the 2024 presidential candidate described how previous lengthy, well-funded investigations against him had failed to prise him from the White House. Special Counsel Robert Mueller's "Russian collusion" probe, the FBI raid on his Mar-a-Lago estate in Palm Beach, and the "Stormy Horseface Daniels extortion plot" were all "sick" and "fake news," he said.
"Our enemies are desperate to stop us because they know we're the only ones who can stop them," Trump insisted, pointing to favorable poll results and vowing to defeat his enemies.
"They're not coming after me, they're coming after you. I'm just standing in their way," the candidate concluded.
Trump revealed last week that he expected to be arrested on Tuesday in connection with the Stormy Daniels hush-money case. Daniels, whose real name is Stephanie Clifford, was allegedly paid to keep quiet about an affair with the real estate developer. In several messages posted on Truth Social, Trump urged his followers to "protest!" and "take our country back" should he be arrested.
Meanwhile, the New York Young Republicans Club organized a demonstration in support of Trump on Monday outside the office of Manhattan District Attorney Alvin Bragg, who is believed to be planning to indict the former president on charges related to campaign finance violations or falsifying business records.
Multiple reporters covering the protest said they outnumbered demonstrators by as much as five to one.
While the president of the Young Republican Club told HuffPost they had kept the demonstration small on purpose, even some of the ex-president's biggest fans treated his call for reinforcements with skepticism.
A poll of Truth Social users conducted by conservative commentator Paul Joseph Watson over the weekend found that 85% of respondents believed a pro-Trump protest would turn into "a January-6 style trap," with infiltrators inciting violence in order to smear the entire movement.
Meanwhile, law enforcement sources told Fox News on Monday that they did not expect to arraign Trump until next week due to safety concerns and other logistical issues.