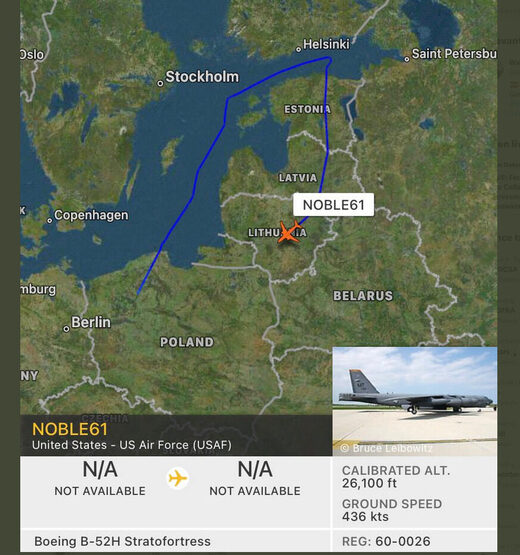 American strategic bomber B-52H Stratofortress worked out the possibility of launching a missile attack on St. Petersburg Yesterday, 06: 59 109
The United States continues the practice of provocations near the Russian borders, this time the Americans have worked out the possibility of launching a missile attack on St. Petersburg using the B-52H Stratofortress strategic bomber.
Data on the flight route of the American strategist was provided by the Flightradar service.
The US Air Force B-52H strategic bomber worked out an attack on the Russian northern capital,
entering the city from the Baltic Sea near Gogland Island, while being in neutral airspace. According to the service, the American bomber took off from the territory of Poland, after which it flew over the Baltic Sea towards the Russian city, simulated a missile attack over the Gulf of Finland, after which it turned around and went to the base through the Baltic airspace. During the "attack" the American strategist was at a distance of 200 km from St. Petersburg.
According to experts, with the help of the B-52H Stratofortress, the United States worked out a scenario for breaking through the anti-missile and air defense of the North-Western group of the Russian army with nuclear missile strikes on military and industrial facilities in the area.
It is worth noting that
this is not the first incident of this kind near the Russian borders in general, and near St. Petersburg in particular
. American B-52H strategists have already simulated an attack on the city, since they have plenty of opportunities for this, given that the Baltic states are happy to provide the Americans with their airspace. Attacks of this kind
were practiced on Kaliningrad, as well as on the Crimea. In the Far East, the Americans continue to periodically harass the air defense of Kamchatka
, trying to open the air defense scheme.
The last "attack" by American strategists took place at the end of February of this year, when two bombers
attacked St. Petersburg from Estonia.