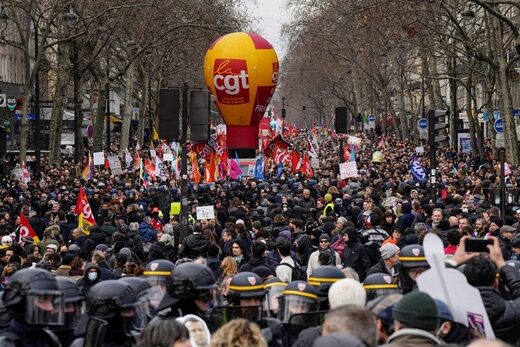 Nationwide demonstrations were held in Paris and other French cities for the seventh time this year with thousands rejecting the government's pension reform plan, according to media reports.
The
protests started earlier in cities such as Nice and Toulouse
, while thousands started rallying in Paris in the afternoon.
Tense scenes were witnessed in Paris during the protests, as some groups threw projectiles at police officers who intervened with force, according to broadcaster BFMTV.

Comment:






Authorities arrested 32 people during the protests in Paris
, Le Figaro newspaper said citing the French police. Some were arrested before the protests in Paris for carrying prohibited arms, including a liter of burning alcohol, the police said on Twitter.
The General Labor Confederation announced that
more than a million people protested in France, including 300,000 in Paris
, while the Interior Ministry counted 368,000 protesters nationwide, including 48,000 in Paris.

Comment: The government has been caught out lying about attendance numbers, and previous rallies had over 1, and 2, million people, and so whilst this demonstration may have been a bit smaller, it's unlikely to be as small as the authorities would prefer us to believe.


Trade unions jointly published a statement on Twitter after the protests, repeating their call on the government to consult French citizens regarding the reform project.
They also
criticized President Emmanuel Macron for refusing their demand to meet
.
The unions also confirmed their next nationwide mobilization day, which will be March 15.
The reform plans include raising the retirement age from 62 to 64 in 2030 and requiring at least 43 years of work to be eligible for full pensions.