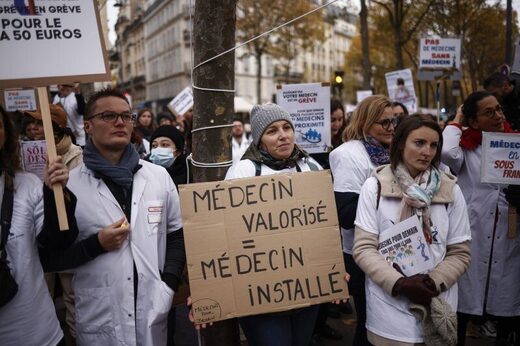 French doctors on Monday extended their ongoing strike for another week
, demanding increased fees and better working conditions as hospitals struggled to keep up with soaring demand
.

Comment: Hospitals have been struggling with 'soaring demand' for many years, however during the lockdowns the government tried to convince us that they were 'overwhelmed' because of Covid.


Some of the country's local general practitioners have
been on strike
for seven days.
They were set to go back to work on Monday but have now extended their strike through Sunday.
They are seeking an increase in the base rate for consultations from $25 to $50 and improved working conditions, specifically the ability to hire secretaries and to attract health professionals to neighborhoods where there is a shortage of doctors.
A protest march to the Health Ministry in central Paris
is planned
for Thursday, according to the group Doctors for Tomorrow. François Braun, the French health minister, has criticized the timing of the action, saying that the strike was particularly unwelcome while the country faces the triple threat posed by seasonal flu, the Covid epidemic and the respiratory infection bronchiolitis.

Comment: Apparently the 'tripledemic' bleated by politicians and the media isn't as serious as the deteriorating working conditions.


"It is a bad period, we live a week of all dangers," Braun said. He
said last week
the entire French health system is under enormous pressure due to the strike's timing.