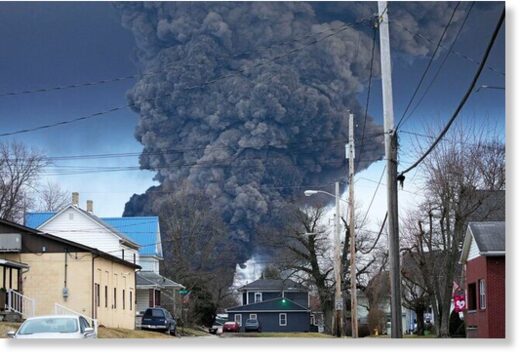 The recent
Ohio train derailment
, in which carriages from a 150-car freight liner
carrying toxic chemicals
crashed off the tracks in the town of East Palestine, is just one of more than a dozen rail accidents reported to have already taken place in the US since the start of 2023.
The accident was not even the first to have occurred in Ohio this year,
according to Newsweek
, with another derailment having taken place on 19 January between Trinway and Adam's Mill.
In that incident, an Ohio Central Railroad train comprising 97 cars and stretching for 1.2 miles slid off the rails, although they were empty at the time so leaked no cargo and no one was hurt.
"A thorough investigation into the cause is still underway," a corporate spokesman
told The Zanesville Times Recorder
in its aftermath, adding that he expected his crew to have the cars upright and the scene cleared within a week.
Newsweek
counts no fewer than three further accidents in South Carolina alone already this year - near Lake City on 9 January, near Loris on 21 January, and another near Enoree on 12 February - as well as two in rural California, one each in
metropolitan Detroit
and Philadelphia and others in Alabama, Alaska, Louisiana and Texas.
The derailment of a
Union Pacific freight train
in Gothenburg, Nebraska, on 21 February, came after three coal trains had derailed in the area in 2022.
But it is
the East Palestine incident
that has cast new light on America's under-reported railroad sector and the challenges it faces.
The accident occurred shortly after 9pm on Friday 3 February, when 38 Norfolk Southern carriages crashed off the rails as the result of what investigators later determined was a broken axle, 10 of which were transporting hazardous materials cross-country.
Fortunately, no one was harmed but more than 2,000 East Palestine residents out of approximately 4,800 had to be temporarily evacuated from the area due to health concerns arising from the chemical spill.

Comment: No one was harmed immediately, as for the long-term toxicity, only time will tell. See also:
As part of the clean up operation, five of the tankers containing vinyl chloride - a compound used to make plastic pipes, wires, cable coating, car parts and packaging but which can cause cancer - had to be intentionally breached by emergency crews, who diverted the substance into an excavated trench and carried out a controlled burn to prevent an explosion, sending noxious black clouds billowing into the atmosphere.
The evacuated residents have since been allowed to return home after the Environmental Protection Agency and the Ohio Department of Natural Resources, monitoring air and water contaminants since the accident, reported that the detected levels
are not significant enough to cause a lasting health impact.
But that has not done much to reassure the locals, some of whom have nevertheless reported symptoms such as runny noses, sore throats and headaches in the aftermath of the disaster, while an estimated 3,500 fish have turned up dead in surrounding waters.
Rail accidents like this are actually relatively common in the US, although the consequences are seldom so dramatic.
The Bureau of Transportation Statistics records 54,539 train derailments between 1990 to 2021, an average of 1,704 per year.
While that might sound like a lot, the fatality rate from such incidents is low, averaging just four deaths per year over the same period.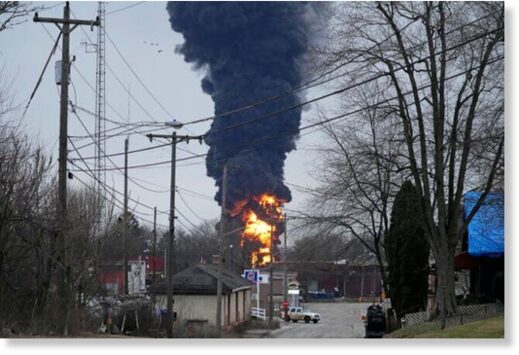 Rail experts have argued, however, that the East Palestine crash was the inevitable result of compromised safety measures and reduced workforces, part of an effort to boost rail company profits.
Steven Ditmeyer, a former top official at the Federal Railroad Administration (FRA),
told investigative news outlet The Lever
that the severity of the crash may have been aggravated by the lack of Electronically Controlled Pneumatic (ECP) brakes.
Comment:
Given
this report
from Gothenburg, Nebraska after their fourth train derailment in 10 months, the question arises, are other railway tracks in a similar state of disrepair?
A Union Pacific train carrying coal suffered a catastrophic derailment on the eastern edge of Gothenburg, Nebraska on Tuesday morning, in the fourth such accident to befall the small town in just 10 months. Emergency and railroad crews were sent to the scene for cleanup after 31 cars carrying coal tumbled into a twisted wreck "It seems to happen all the time," local resident Jesse Ambler told the Daily Mail. "The rail company keeps laying people off and building longer and longer trains, but with less people to maintain the tracks," he explained, describing the disaster-plagued stretch of tracks as "one of the busiest railways in America."
Former US president Barack Obama passed legislation making it mandatory for trains carrying hazardous, flammable materials to have ECP brakes but the order was rescinded in 2017 under a Donald Trump administration assault on "red tape".

Comment: Of course, it's Trump's fault.


The National Transportation Safety Board has confirmed that the trains that were derailed in East Palestine were not equipped with ECP brakes,
The Lever
reports.
The Railroad Workers Union has meanwhile
argued in The New Republic
that a management practice adopted by rail companies called Precision Scheduled Railroading - which organises freight scheduling based on individual cars, rather than considering the balance of the train as a whole - may have played a role and could contribute to future accidents by sidelining safety concerns.
Ian Jefferies, head of the Association of American Railroads trade group, has moved to reassure the public about the safety of chemical freight by insisting that 99.9 per cent of all hazardous materials shipments reach their destinations safely.
FRA data showed that dangerous chemicals were released in only 11 train accidents across the US in 2022 out of roughly 535 million miles covered, comparing favourably to the decade highs of 20 recorded in both 2018 and 2020.
"Railroads are the safest form of moving goods across land in the country without question," Mr Jefferies said. "But railroads are also working to drive toward zero incidents. Until we reach that goal, we haven't got to where we want to be."