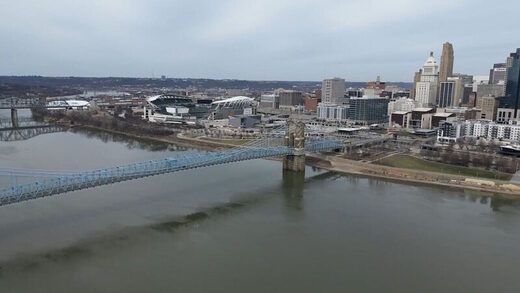 Water works officials said out of an abundance of caution, they will be shutting off the Ohio River intake ahead of the anticipated arrival of the last detectable chemical concentration in the river.
According to GCWW, the latest modeling indicates that any chemicals remaining in the Ohio River will likely pass through the Cincinnati area early on Sunday, Feb. 19.
While the water intake is shut off, GCWW will temporarily switch to water reserves, officials said.
Ohio Gov. Mike DeWine said they are continuing to monitor the Ohio River, saying Friday that sampling has shown the chemical plume has completely dissipated and they are no longer getting any reading of contaminants.
DeWine said water test results show municipal water in East Palestine is safe to drink following a train derailment and chemical spill.
Following the test results, the Ohio EPA said they are confident that the municipal water is safe to drink.
"Our City Administration is prepared for these types of events. I understand the concern, and I'm confident that temporarily shutting off the Ohio River intake is the best move," City Manager Sheryl Long said in a statement. "There's zero risk that our water reserves contain contaminants from the train derailment site, and tapping these reserves will give us all peace of mind. I want to thank GCWW, who are truly the best of the best, and state that I have full faith in their decision-making and their ability to keep us safe."
GCWW officials said the water reserves are free from contaminants from the train derailment.
As water reserves are being used, GCWW said they will be monitoring Ohio River to determine when it is safe to reactivate the intake.
GCWW said it also plans to use additional optimized treatment once the intakes are reopened, even if no chemicals are detected.
"We are taking this preventative step to ensure the health, safety, and confidence of residents," Mayor Aftab Pureval said in a statement. "Our entire community has East Palestine in our thoughts, and in coordination with the Ohio EPA and the Sanitation Commission, we will continue to support the best recovery possible. I am proud of the swift action of Water Works and City Manager Long in stepping up to protect our families."
"We continue to monitor the situation closely and stand ready to protect the quality of our drinking water. Ensuring a clean and safe water supply to customers is our top priority," GCWW Interim Director Verna Arnette said in a statement.
GCWW has been working with the Ohio EPA, Ohio River Valley Water Sanitation Commission (ORSANCO) and neighboring water utilities along the river to collect samples and perform additional analyses to assess any potential threat to our drinking water.
GCWW officials said they have tested more than 130 water samples at the Ohio River water intake and no detectable levels of the chemicals from the derailment site have been found.
Northern Kentucky Water District made the same decision last week to close Ohio River intake out of precaution.