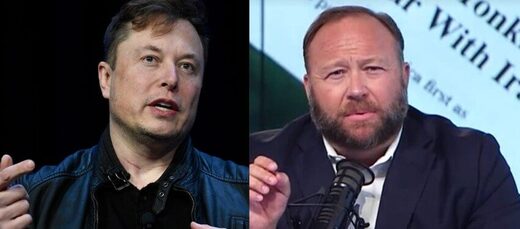 Elon Musk has revealed the reason behind his decision to not
reactivate the Twitter account
of Alex Jones.
During a brief interaction with another user on Twitter, Musk opened up about the death of his first son and doubled down on his decision to keep the controversial Infowars host off the social media platform.
"My firstborn child died in my arms. I felt his last heartbeat," Musk said in response to further questioning about Alex Jones' Twitter account being reinstated. "I have no mercy for anyone who would use the deaths of children for gain, politics or fame."
Alex Jones gained notoriety after making claims that the Sandy Hook elementary school shooting in 2012 was a hoax, fabricated by the Democrats as an excuse to take away the American people's guns.
Jones was subsequently
ordered to pay
$965 million to the families of the victims of the shooting, which Jones called a "political joke" and compared the amounts to "getting blood out of a stone." He was later ordered to pay an additional $473 million.
He responded to Musk's refusal to reinstate his account in a video statement released on Sunday.
"I understand why Musk did this. He's got the ADL and the Democratic party on him, he's got the EU on him trying to shut him down right now," Jones said in the video. "Do I blame Elon Musk for this? No, ladies and gentlemen. And quite frankly, I don't care if I get brought back to Twitter."
He continued, "I'm the most controversial figure in the world because I'm the most threatening to the new world order. So don't expect him to bring me back day one when he has to first get control of the platform before he can even think about that."
Musk and his ex-wife Justine lost their first son in 2002 at the age of 10 weeks to sudden infant death syndrome. They went on to welcome five more children before divorcing in 2008.
Since taking over the helm of Twitter, Musk has emphasized his support for free speech, stating that he would reinstate the numerous accounts that were shut down for violating the company's rules. The last week has seen Christian satire site The Babylon Bee, Dr. Jordan Peterson, Kathy Griffin and Kanye West
return
to the social media giant.
Donald Trump's Twitter
has also been reinstated, but as of Monday afternoon, he has yet to make a post.