The USG death machine has bases stretched across Japan.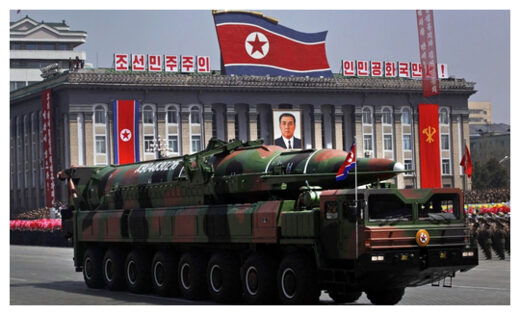 The idea, when dealing with renegade nations not part of the parasitical neolib crowd, is to make them out as intolerable threats, not only to their neighbors but all of humanity.
We witnessed the following charade earlier today:
North Korea has fired numerous missiles into the Pacific Ocean. It would be simply preposterous to believe they would fire ONE offensive missile (even a multi-warhead missile) at Japan, and then overshoot the entire island. In 1998, North Korea fired a Taepodong-1 ballistic missile that flew over the island and also went into the Pacific Ocean. Other missile incidents occurred in subsequent years, many landing in Japanese territorial waters.
This may have been a message for Japan, but maybe not. You can never tell when dealing with Kim Jung-un, the boy totalitarian in a contest of viciousness with his dour-faced sister.
One thing, however, is certain, despite the apparent mental issues Kim suffers.
You will not be attacked by the neoliberal death machine if you have nukes and demonstrate a capacity to effectively launch them.
This is why Iran wants a nuke, despite denials. They know, sooner or later, Israel and the USG will attack (and are presently doing so using the "soft" color revolution paradigm; no Maidan Square intensity thus far detected).
The USG death machine has bases established across Japan — on Okinawa, Misawa, Fussa, Uruma, and at least twenty other locations on the island. Kim's missiles are not a message to the Japanese people. It must be said, if we can believe a BBC World Service poll (no longer online), 91% of the Japanese people consider North Korea's influence negatively.
According to a declassified 1956-57 Far East Command manual, "
Standing Operating Procedures for Atomic Operations
,"
there are thirteen locations in Japan with nuclear arsenals.
In the 1950s, there were
at least 1,200 nuclear warheads on the island of Okinawa
. Moreover, USG submarines, bristling with cruise missiles (
capable of nuclear payloads
) have repeatedly visited the Yokosuka and Sasebo ports.
Before he was assassinated, former PM Shinzo Abe made a promise to
share nuclear weapons with the USG and NATO
. Add to this a number of secret meetings held and
pacts made
between USG and Japanese officials on nuclear weapons.
The point here is really quite simple. North Korea suffered near total destruction at the hands of the US military and the United Nations during the Korean War.
From the
Washington Post
:
The bombing was long, leisurely and merciless, even by the assessment of America's own leaders. "Over a period of three years or so, we killed off — what — 20 percent of the population," Air Force Gen. Curtis LeMay, head of the Strategic Air Command during the Korean War, told the Office of Air Force History in 1984. Dean Rusk, a supporter of the war and later secretary of state, said the United States bombed "everything that moved in North Korea, every brick standing on top of another." After running low on urban targets, U.S. bombers destroyed hydroelectric and irrigation dams in the later stages of the war, flooding farmland and destroying crops.
In short, unrestrained and totally psychopathic behavior on a major scale is on display for the entire world to see (except here in America, where the war is spun to make brave Americans the saviors and heroes).
Is it any wonder serious antipathy and hatred against the USG is a top issue for the Kim dictatorship? Is it really a surprise they are eager to show the USG its missiles can reach at least the west coast of the United States?
Nations acquire nukes to make certain they are never attacked by neoliberal psychopaths and serial murderers and looters of natural resources. It is a tactic that works very well.