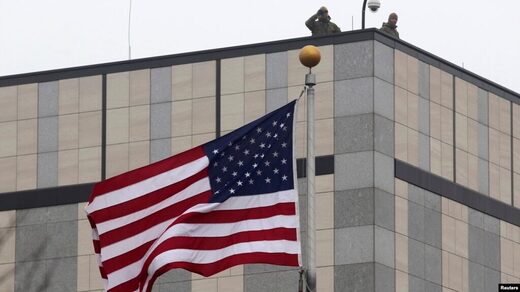 Britain and the United States have announced the departure of some embassy staff and dependents from Ukraine in a move that Kyiv has called "premature" following several rounds of inconclusive diplomatic talks between Washington and Moscow prompted by Russia's build up of tens of thousands of troops near the border with its western neighbor.
The European Union, however, signaled that it was not immediately following the U.S. and British moves, with a senior EU official saying on January 24 that there was no need to "dramatize" the situation as long as diplomatic talks with Russia continue.
The bloc also announced a 1.2 billion euro ($1.36 billion) financial aid package for Ukraine to mitigate the effects of the conflict with Russia, which has amassed some 100,000 troops on Ukraine's border.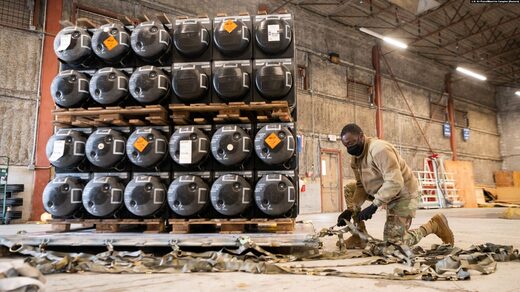 The partial withdrawal of staff came as NATO announced it was putting forces on standby and sending extra ships and fighter jets to eastern Europe.
Comment:
Clearly Britain, the EU, and Ukraine do not
believe
the 'dramatized' claims that there is a threat of an 'imminent Russian invasion', which, by the way, have been ongoing for weeks now. That's also likely why only a few additional ships and jets have been sent, the majority are which on 'standby'. Russia, on the other hand, has
sent
20 warships to the Baltic.
These claims of an 'imminent invasion' also contradict a statement that just came out of the White House itself that said that it's unlikely Russia would make any moves what with China hosting of the Olympic games in February:
The U.S. State Department told dependents of staffers at the embassy late on January 23 that they must leave, while nonessential embassy employees can voluntarily leave at government expense. The orders were issued "due to the continued threat of Russian military action," the department
said in a statemen
t.
The security conditions, particularly along Ukraine's borders and in Russian-occupied Crimea and in Russian-controlled eastern Ukraine, "are unpredictable and can deteriorate with little notice," the statement said.
'Prudent Precautions'
In announcing its decision,
the State Department statement noted recent reports that Russia was planning significant military action against Ukraine, but the senior State Department official who briefed reporters did not cite any specific event that had preceded the announcement
.
"These are prudent precautions that in no way undermine our support for or commitment to Ukraine," the official said.
Following the U.S. announcement, Britain's Foreign Ministry on January 24 said it was also withdrawing some staff and their relatives from its embassy in Ukraine in response to the "growing threat from Russia."
Both countries said their embassies will remain open for "essential work."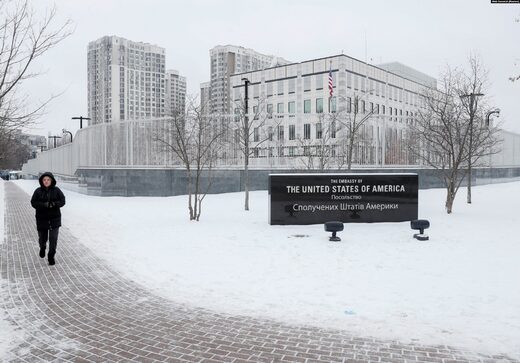 Ukraine characterized the U.S. move as "premature," with Foreign Ministry spokesman Oleh Nikolenko saying in a statement that it was important to "remain calm."
"We consider such a step by the American side premature and a display of excessive caution," Nikolenko said.
"The Russian Federation is currently making active efforts to destabilize the domestic situation in Ukraine," he said,
adding that "disinformation, manipulation" was being spread by the media to "sow panic among Ukrainians and foreigners."

Comment: If any country is sowing panic its the US, that's why so many officials from every country but the US have had to come forward and contradict the US narrative.


"In this situation it is important to soberly access the risks and remain calm," Nikolenko added.
The European Union's top diplomat, Josep Borrell, said on January 24 that the bloc did not have any immediate plans to order its staff out of Ukraine.
"We are not going to do the same thing because we don't know any specific reasons,"
Borrell said as he arrived for a meeting of EU foreign ministers which will include videolink attendance by U.S. Secretary of State Antony Blinken.
"I don't think we had to dramatize as far as the negotiations are going on -- and they are going on."

Comment: The 'imminent Russian invasion' that never was.


'Never-Seen-Before Sanctions'
During the January 24 meeting, the EU ministers will reaffirm Europe's condemnation of the Russian military buildup near Ukraine, estimated at more than 100,000 troops, diplomats and officials said ahead of the meeting.
Arriving for the discussions in Brussels,
Danish Foreign Minister Jeppe Kofold said the European Union would be ready to impose unprecedented sanctions if Russia attacks Ukraine.
"There's no doubt we are ready to react with comprehensive, never-seen-before sanctions if Russia were to invade Ukraine again." Kofod said.

Comment: That's a rather big, baseless, 'if'.


EU Commission Chief Ursula von der Leyen meanwhile said the bloc will help Kyiv with a 1.2 billion euro ($1.36 billion) financial aid package for Ukraine.
"The Commission proposes a new emergency macro-financial assistance package of 1.2 billion euros," von der Leyen told reporters in Brussels, adding that the package would be made up of both emergency loans and grants.
"This package will help Ukraine now to address its rapid escalation in financing needs due to the conflict," she said.
Comment:
Meanwhile US congress are also busy rushing through an
additional
$500 million 'defense' package. It's likely that some of these funds will go towards Ukraine's war on the breakaway republics of Donbas and Lugansk, in violation of the Minsk protocol, of which the US and the EU were signatory.
The Russian Foreign Ministry has accused NATO countries of escalating tensions around Ukraine even after top diplomats of the U.S. and Russia on January 21 agreed to keep working to ease tensions.
The Kremlin denies any intentions to invade its neighbor but has made de-escalation conditional on treaties guaranteeing NATO will not expand further eastward, especially to Ukraine.

Comment: Bearing in mind these treaties constraining NATO expansion were agreed to decades ago, NATO just chose to break promises it 'made at the highest levels'.


Earlier on January 23, Blinken rejected calls for preemptive sanctions against Russia, saying that doing so would undermine the West's ability to deter Moscow from any further potential aggression against Ukraine.
NATO said on January 24 that it was beefing up its eastern flank with more warships and fighter jets.
"NATO will continue to take all necessary measures to protect and defend all Allies, including by
reinforcing the eastern part of the Alliance
. We will always respond to any deterioration of our security environment," NATO Secretary-General Jens Stoltenberg
said in a statement
on January 24.
The alliance said that it's beefing up its "deterrence" presence in the Baltic Sea area, as several members have offered troops and equipment.
The statement pointed to decisions in recent days by
Denmark to send a frigate and warplanes to the Baltics, Spain bolstering naval deployments, and the Netherlands putting a "ship and land-based units on standby"
for its rapid response force.
Comment:
Hardly reflective of concerns of an 'imminent invasion'. Note also that Croatia's president has broken ranks and
declared
that if there is an escalation they will recall "every last Croatian military man", because
"This has nothing to do with Ukraine or Russia, it has to do with the dynamics of American domestic politics".
In reaction,
Kremlin spokesman Dmitry Peskov said on January 24 that the United States and NATO were escalating tensions through "information hysteria" and "concrete actions," adding that

the risk of an offensive by Ukrainian troops against pro-Russia separatists was "very high."
Meanwhile, Irish Foreign Minister Simon Coveney said on January 24 that Moscow has notified Dublin of Russian naval exercises in international waters in the Irish Sea, adding that they were unwelcome.
"We don't have a power to prevent this happening but certainly I have made it clear to the Russian ambassador in Ireland that this is not welcome. This isn't a time to increase military activity and tension," Coveney said.