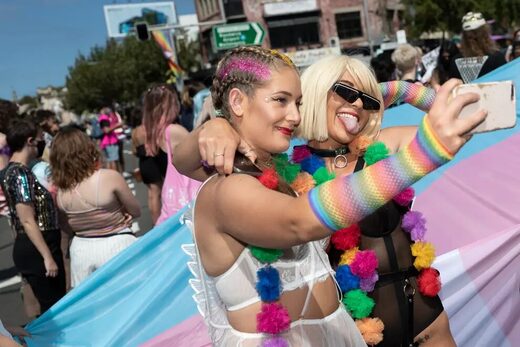 The European Union
has been declared an "LGBTIQ freedom zone" in a powerful response to
Poland
and
Hungary
's growing discriminatory policies against
people
from the queer community.
The members of
the European parliament
(EP) voted in majority
to adopt the symbolic
resolution
by 492 votes in favour, 141 against
it and 46 abstentions in rebuttal to Poland where local authorities declared itself an ''LGBTIQ-free zone" two years ago.
Shortly before the parliament was set to declare its resolution to support rights of LGBTIQ people,
the Polish government announced that it was planning to bar those living in same-sex relationships from adopting children even as single parents
.

Comment: Note that even experts in the West acknowledge that single parent families are far from the ideal environment for children, and that children suffer for it.


Same-sex relationships are illegal in Poland and the ruling government already bans same-sex couples from adopting children together.
The government is now planning to propose a law that will allow extensive background checks on single people seeking to adopt to check whether the person is living in a homosexual relationship.
If passed, the law will shut the last loophole that allows same-sex couples to adopt babies as single parents.
"We are preparing a change where ...
people living in cohabitation with a person of the same sex cannot adopt a child, so a homosexual couple will not be able to adopt a child
," said deputy justice minister Michal Wojcik.
The EU resolution declared that members of the LGBT+ community "in the
EU
should enjoy the freedom to live and publicly show their sexual orientation and gender identity without fear of intolerance, discrimination or persecution".

Comment: Being free from persecution and being eligible for adopting a child are quite different issues.


"Authorities at all levels of governance across the EU should protect and promote equality and the fundamental rights of all, including LGBTIQ persons," it added.
Terry Reintke, a German MEP in the Greens group who also put forward the resolution, hailed it as a "first step".
"You scapegoat our communities when all we ask for is safety. You attack our families. You tell people we are a threat. You deny us the right to be who we want to be when all we ask is freedom. But we will not give up just because you keep attacking us," she said ahead of the voting.
In the past two years, over 100 Polish towns and cities have declared resolutions to "free themselves" of "LGBTIQ ideas".
The European Commission has threatened to pull funding for these places.
Hungary has been mirroring these policies with its towns banning the "dissemination and promotion of LGBTIQ propaganda". This has put both Hungary and Poland in the EU's crosshairs.