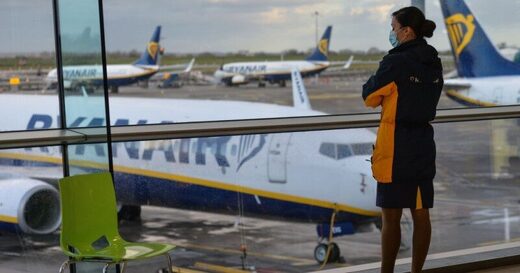 Ryanair leaves customers confused and angry.
Budget airline Ryanair is promoting the sale of summer flights with a "Jab & Go!" advertising gimmick
despite having previously stated that it wouldn't require passengers to take a COVID vaccine before they fly.
Ryanair's website features a banner with the words 'BOOK SUMMER - VACCINES ARE COMING' alongside a generic image of a needle next to the words "Jab & Go!"
The ad looks like it is promoting some kind of package deal where people can arrange their vaccination at the same time they book their flight, but the whole thing is just a gimmick - Ryanair's isn't in the business of arranging vaccinations.
However, the promotion did leave many people wondering whether Ryanair was signaling that it would require passengers to take the shot before they're allowed to fly.
If so, this contradicts a previous statement by Ryanair chief executive Eddie Wilson, who said the company wasn't planning on mandating the jab.
"With Qantas, they're a long-haul operator - vaccinations in that context are really for long haul," he said, referring to the Australian airline's announcement that it would mandate passengers get the vaccine.
"With short haul and freedom of movement of people in Europe... I think we'll see an entirely different landscape come spring and early summer, not really relevant for short haul and European travel," he added.
As we
reported earlier
, other airlines have indicated they will not allow passengers who haven't had the vaccine to fly, including Singapore Airlines, which has become the first carrier to officially launch a COVID passport, which will display the vaccination status and COVID test results of passengers.
Last month, a UK travel agency
announced
it would be boycotting Qantas over its 'no vaccine, no flight' policy, saying travelers should have freedom of choice.
Meanwhile, thousands of Brits who booked flights to visit family members abroad and were subsequently banned from entering dozens of countries due to COVID were left further infuriated when Ryanair refused to refund their flight costs.