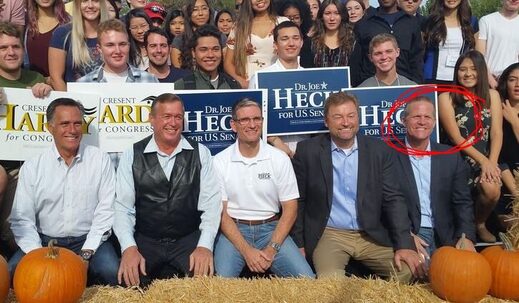 Yesterday, President Trump's legal team attacked Dominion Voting Systems Company for its ties to Communist China, and for corrupting foreign and domestic elections, including the 2020 general election. Trump's lawyer, Sidney Powell, attacked numerous Governors and Secretary of States for their ties and corruption to the company now accused of switching votes in numerous states like Nevada.
Many Republicans, including Adam Laxalt, have been extremely critical of Nevada Sec of State Barbara Cegavske for taking a public stand against Pres. Trump this entire election season.
Cegavske's main supporters, including Mark Hutchinson and folks behind the Republican State Leadership Committee PAC accepted donations directly and indirectly from Dominion Voting Systems Company in July 2020. By doing this, Cegavske was compromised and could not speak out against the company nor investigate any allegations of corruption which have now surfaced. BTW Dominion only gave one donation ever, only to the Republican group, according to publicly available reporting system, which Cegavske controls.
On July 24, 2020 Dominion Voting Systems donated to the Republican State Leadership Committee PAC. The PAC lists Former Nevada Lt. Governor Mark Hutchison's law firm as the agent for the Political Action Committee.
NV state leadership fund docs #1
The STRONGER NEVADA PAC, which lists Hutchison as the President, received $200k from the Republican State Leadership Committee PAC. Hutchison is an allie of Mitt Romney and was part of the group that sandbagged President Trump on the eve of the 2016 election.
Stronger nevada PAC