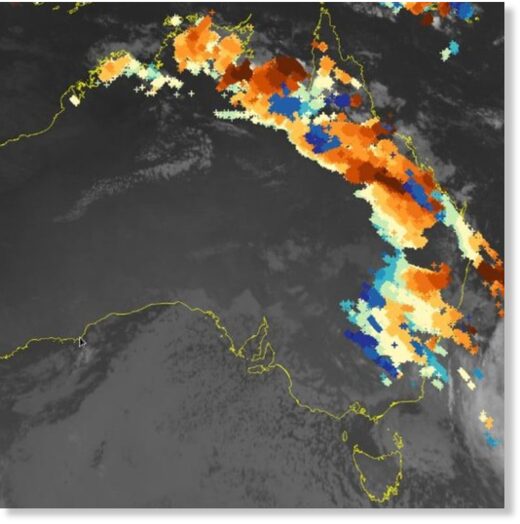 Australia has been hit by more than 2.24 million lightning strikes in just 48 hours as wild weather battered the east coast over the weekend.
Storms and damaging winds up to 100km/h wreaked havoc in multiple states, with volunteers responding to hundreds of calls for help.
The weather bureau said most of the 2.24 million lightning strikes were recorded in Queensland, NSW and the Northern Territory,

with more storms expected this week

.
In Melbourne's outer east a woman aged in her 50s was hospitalised with non-life threatening injuries after the car she was driving crashed into a tree that had fallen onto the Maroondah Highway at Kilsyth.
Victorian State Emergency Service volunteers have responded to more than 330 requests for assistance in the past 24 hours for trees fallen onto buildings, roads and powerlines.
Kilsyth, Montrose and The Basin in Melbourne's outer east were the worst affected areas with more than 240 call-outs, while a large Moreton Bay fig tree caused significant damage to a house in Glen Iris.
About 2000 houses, mostly in the eastern suburbs, are also still with power on Monday morning.
In Queensland, the SES, Rural Fire Service, and Queensland Fire and Emergency Services crews were called to 220 jobs for fallen trees, fallen powerlines and property damage.
Brisbane has recorded almost 34mm of rain since 9am on Sunday, while Oakey near Toowoomba received 42.6mm.
At least 34 homes in southeast Queensland were impacted by flooding, mostly from leaking roofs caused by heavy rainfall, with Ipswich, South Brisbane, Redlands and Logan the most affected areas.
A QFES spokeswoman said 132 jobs were for structural damage to houses and 99 for fallen trees, with crews still responding to 33 requests for assistance as of 6am on Monday.
In NSW, Sydney was hit by wind gusts of up to 80km/h and more than 40mm of rain in the past 24 hours, with Cabramurra in the Snowy Mountains recording the strongest winds in the state with gusts of 100km/h.
The wild weather has triggered traffic chaos for Sydneysiders with several roads blocked off ahead of the Monday morning commute.
(Read more
here
)