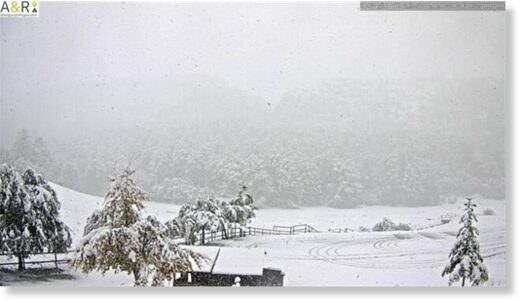 3 Oct 2020 -
The effects of storm Álex are felt at low elevations with snow thicknesses up to 25 cm.
The mercury dropped to 5C below zero in Cerler, the coldest temperature in Spain on Saturday, followed by Torla with minus 2.1C, and Panticosa with minus 1.8C, according the State Meteorological Agency (Aemet).
Along with this strong cooling, the Huesca Pyrenees has registered snowfalls ranging from 8cm in the Casa de Piedra Refuge at 1,600 meters to 30 cm (1 ft) in the Refuge from Bachimaña at 2,200 meters.
The snow complicated travel in the Somport port (N-330) between Canfranc station and Candanchú and on the N-330b, in Candanchú, to the point of prohibiting passage of heavy vehicles, according to the Pirineos-Valle del Ebro Traffic Management Center.
For access to the Panticosa Spa road (A-2606), the use of chains or winter tires was mandatory between kilometers 7 and 10, between 10 a.m. and 10:50 a.m, but reopened at 12:30.
At the moment, chains or winter tires are mandatory at the port of Portalet, specifically between Anayet and the French border. Snow has also complicated travel on the road from Escarrilla to the top of Portalet.
Thanks to Argiris Diamantis for
these
links
.