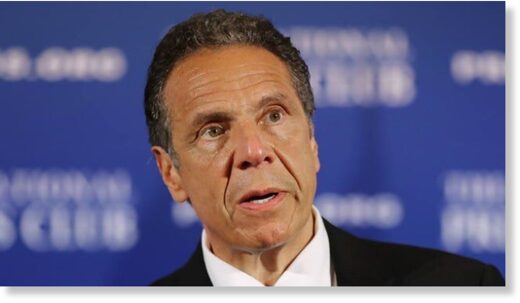 New York Gov. Andrew Cuomo said Tuesday that President Trump caused the
pandemic
destruction in New York by failing to block travel from Europe earlier.
"Donald Trump caused the COVID outbreak in New York. That is a fact," Cuomo said.
Cuomo added that the viral strain that hit New York, the first epicenter of the virus in the United States, came from Europe with millions of travelers to New York long before Trump's March travel ban.
"It was not the 'China virus.' It was the European virus that came to New York," Cuomo said. "And then 3 million Europeans got on the plane and came to New York, and they brought the virus. January, they brought the virus. February, they brought the virus. March, they brought the virus."

Comment: But it was Cuomo (along with NYC Mayor deBlasio) that went full retard with their idiotic lockdown, despite many of the facts that came out about the virus months ago.

No Cuomo, you're not going to get away with blaming Trump for your ignorance, your power trips, and your egregious errors in judgment that have negatively impacted the lives of millions.


Trump has touted the benefits of his ban on travel from Europe that was
first announced
on March 11, saying more than once that his decision saved millions in the U.S. Just six days after announcing the ban, Trump said that he
foresaw the pandemic
"long before it was called a pandemic," but he continued to assure the public that it would go away on its own.
Cuomo said Tuesday that the ban was "too little, too late."

Comment: Cuomo's deflections are too little too late. The thinking public is on to him and his ilk now.


The coronavirus strain that pummeled the East Coast in March and April was from "primarily European and United States sources," according to a July study led by the Icahn School of Medicine at Mount Sinai that
traced the source
of the outbreak in New York.
"These results show that [COVID-19] came to the New York City area predominately via Europe through untracked transmissions," said Dr. Viviana Simon, one of the report's authors. "The study also suggests that the virus was likely circulating as early as late-January 2020 in the New York City area."
The virus has infected more than 440,000 people in New York and killed at least 33,000 people since the height of the outbreak in the spring. The state has since gotten the virus relatively under control. The COVID-19 positivity rate across the state is
below
1%, down from about 45% in
early April
.