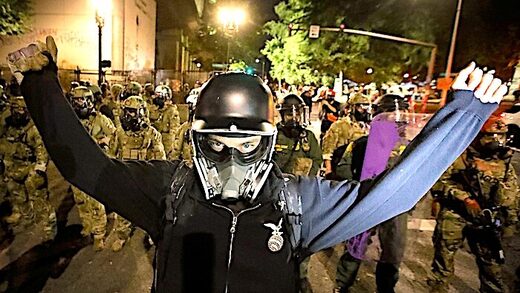 Organizers of protests in Seattle are suing the local Police Department for what they characterized as "violent" use of force to disperse crowds,
forcing protesters to buy "expensive" equipment to protect themselves.
Lawyers for the protesters wrote in a lawsuit
filed Monday against the city of Seattle:
"Because the Seattle Police Department has acted above and outside the law in dispensing its unbridled force, and the City has failed to prevent same, the government effect is to establish a de facto protest tax.

"Individual protesters subjected to SPD's unabated and indiscriminate violence now must purchase cost-prohibitive gear to withstand munitions — even when peacefully protesting — as a condition to exercising their right to free speech and peaceable assembly."
The lawsuit stems from a July 25 clash between protesters and law enforcement —
an event police deemed a riot
—
during which officers used pepper balls and tear gas to break up crowds of people who were engaged in an unlawful assembly, destruction of property, or other criminal acts.
Police said the event started out as a peaceful march in support of Black Lives Matter but deteriorated into
widespread looting, vandalism, and violence against officers. At least
12 members
of the Seattle Police Department were injured after being attacked by rioters.
The lawsuit asks a judge to bar police in Seattle from using any anti-riot tactics when dealing with large groups of demonstrators during future demonstrations. The lawsuit says:
"The continued misuse of war munitions by SPD against civilians turns the streets — a public forum and site of protest — into a pay-to-protest racket where only a privileged few who are wealthy enough or popular enough to crowdsource funds to purchase gear akin to that used by the police department they fund can truly be in the streets."
Last week, Seattle police Chief Carmen Best
pleaded with the local City Council
, some members of which have joined various anti-police demonstrations in the city in recent weeks, to disavow the protesters and help her fight crimes that are being committed amid the chaos. Best
said in a letter
:
"It is a fact that there are groups and individuals who are intent on destruction in our City. This weekend we know that several events are planned across the city that will foreseeably involve many of the same violent actors from recent days. There is no reason not to assume we will continue to experience property destruction, arson, looting, and attempts to injure additional officers throughout the weekend and beyond."
Seattle Mayor Jenny Durkan has
expressed support
for the Black Lives Matter movement, the resurgence of which has sparked some of the demonstrations in Seattle in the wake of George Floyd's death, but has condemned acts of violence committed by protesters.
Durkan, a Democrat, described some of the demonstrators as "well-organized with this kind of destructive power."