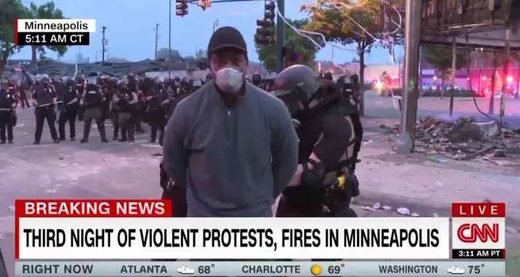 CNN journalist Omar Jimenez was arrested and taken into Minnesota State Patrol custody during a live broadcast on Friday covering protests over the death of George Floyd in Minneapolis.
In the live broadcast, the journalist could be seen reporting on protests before pausing as state patrol officers appeared to pursue a demonstrator.
The journalist could then be seen speaking with state patrol officers directly, as he identified himself and his crew — including a producer and a camera operator — as journalists.
He then tells the officers that the team would be willing to relocate if their location is an issue.
Jimenez then resumes reporting, when a state patrol officer tells him he is under arrest.
"Do you mind telling me why I'm under arrest, sir?" the journalist asks as the officer begins to handcuff him.
CNN anchors expressed confusion at the incident, asserting that they did not understand why their correspondent was being taken into custody.
They asserted that the reporting team had been standing where they had previously been directed to stand prior to the arrest.
Newsweek
is contacting CNN and Minnesota State Police for comment.