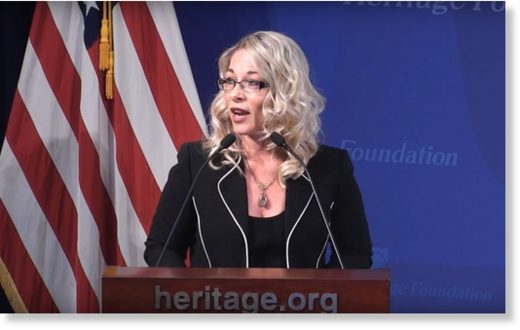 Speaking in the nation's capital, a 28-year veteran California teacher explained that most teachers are disturbed by the decades-long push to indoctrinate and oversexualize school children by teachers' unions dedicated to far-left cultural and political causes and not the well-being of kids.
"When you hear that teachers are behind comprehensive sexuality education or that teachers agree with the sexualization of children, that's a huge deception," said Rebecca Friedrichs.
On the contrary, "America's real teachers are deeply distrubed by the sexualization of our children," said Friedrichs.
"America's real teachers have been silenced and bullied by the very organization that is pushing the sexualization of children: That is, labor unions," she declared.
Friedrichs spoke at The Heritage Foundation's summit on "
Protecting Children from Sexualization
." She is a former elementary school teacher who fought against paying dues to the California Teachers Association because they were funding causes she did not support, including comprehensive sexuality education. Her case went all the way to the U.S. Supreme Court, where she prevailed.
Friedrichs explained that for the last 60 years, the unions have pushed their sexual, social, and political agenda into our classrooms.
"The unions attack the very virtues that most teachers cherish. They have used the teaching profession to gain unfettered access to America's children," she explained.
"The unions have been dividing parents and teachers for decades," she added.
Friedrichs talked about her experience attending state teachers conferences, where she was shocked to see rooms full of expo tables that push Planned Parenthood, gay-straight alliance clubs, other LGBT advocacy causes, and far-left politics."
At National Education Association (NEA) events, "Teachers were wined and dined, and if you agreed to start a gay-straight alliance on your campus, you could get big money," said Friedrichs. "You could also get money to push LGBT activism in the classroom. But can you get money to actually do something to help your students? No. Can you get support — as a union leader — for your colleagues? No."
Most of the business items at NEA conventions "are about far left politics, the LGBT agenda, and divisive narratives," said the veteran educator. "Every divisive word you hear or see in our culture was first mentioned or made up inside the unions."
"At NEA representative assemblies, I have teacher friends who have been fighting against the oversexualization of our children for over 30 years," recounted Friedrichs.
"Here's how they've been treated: They have been spit upon. They have been screamed at. Their path back to their seats have been blocked. They have been barred from serving on sex-ed and health committees."
"Two were told, 'There's a special place in hell for people like you,'" she added.
"This is how America's loving teachers are treated by labor unions."
Friedrichs described a drag queen event staged at an NEA representative assembly this summer:
"The drag queen show began with a huge muscular man in a sequin vest over a bare chest belting out descriptions and positions of masturbation. There were little children and even a baby in the room."
"And this is how they entertained teachers," she said, "but what they are really doing is trying to indoctrinate teachers," telling them this is normal behavior and you should push this.
"These are the people who are pushing this sexual agenda," said Friedrichs. "Not loving teachers."
"So teachers are bullied on every level, and we are horrified at the instruction we are being told to teach to your children," declared Friedrichs.
She offered a few examples:
We're told to teach children of their 'sexual rights,' that they should have sexual pleasure at all ages.
That out of wedlock sex with anyone you want is just fine from any age, and hey, you shouldn't think you're not bisexual or homosexual. Don't knock it until you try it."
We are told that the number one goal we are to teach children is to prevent pregnancy.
We are told to teach children how to use condoms by bringing in fully erect penics models for them to manipulate. Ten and 11 year olds.
All of this has to be done in mixed company because we are told to tell the children as young as four, 'your parents didn't know your gender when you were born, so they assigned you a gender. There is really a huge spectrum of genders. You will figure out your gender someday. That is child abuse. It is also the abuse of parents. It's also religious abuse.
We are told we have to tell children how and where to obtain birth control, including the morning-after pill and abortion without parental knowledge or permission from age 12.
"The details are so inappropriate that I cannot even mention them to you today," continued Freidrichs. "But they're being said to our children in America's schools. That is evil."
Read more...