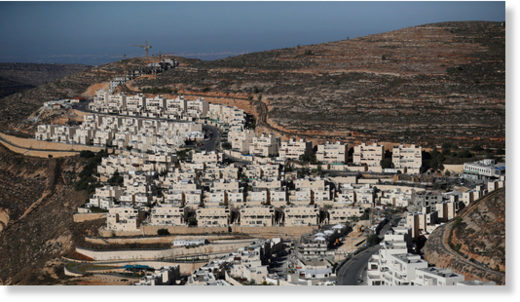 The US decision to recognize Israeli settlements in the West Bank as legal will aggravate the situation in the region, Russian Foreign Ministry said on Tuesday.
"We consider Washington's decision as another step aimed at scrapping the international legal base of the Middle East settlement,"
Moscow stated, adding the US move will only further undermine the
"already tense situation in Palestinian-Israeli relations."
Russia's position remains unchanged, viewing
Israeli settlement construction on the West Bank has no legal force and exists at odds with international law. It erodes the path to peaceful solution on a basis of the two-state concept, the ministry argued.
Russian diplomats urged all parties to refrain from steps that could provoke a new escalation.
Comment:
Turkey had sharp words for the US decision as well:
Turkish Foreign Minister Mevlut Cavusoglu has blasted Washington over its decision to reverse the US's previous position on the illegal nature of Israeli settlements in West Bank.

"No country is above international law. Fait accompli style declarations shall have no validity with respect to international law," Cavusoglu wrote on his official Twitter account, referring to Secretary Pompeo's statement.

[...]

Turkish-Israeli relations have been poor for years, ever since the 2010 Israeli commando raid on a Turkish aid ship heading to Gaza, with Prime Minister Netanyahu and Turkish President Recep Tayyip Erdogan regularly engaging in a back and forth war of words, accusing one another of corrupt behaviour, of "occupying" stolen territories, and branding one another as a "dictator" or "Nazi." Earlier this year, President Erdogan declared that "whoever is on the side of Israel, let everyone know that we are against them."
And the Arab League made made a
similarly strong condemnation of the decision
:
The Arab League strongly condemns US Secretary of State Mike Pompeo's Monday announcement, in which he said that Jewish settlements established by Israel in the West Bank were no longer inconsistent with international law, the organization's head, Ahmed Aboul Gheit, said on Tuesday.

Aboul Gheit condemned in the strongest terms the statement, issued by US Secretary of State [Mike Pompeo], that his country no longer viewed the Israeli settlements in the West Bank to be contrary to international law and considered it as a very negative development," the head said in a statement.

He added that international law was formulated by the global community, "but not by a single state."
US Secretary of State Mike Pompeo announced Monday that Washington no longer views Israeli settlements in the West Bank as inconsistent with international law.
It marked a reversal of America's longstanding legal opinion labeling them illegal since 1978.
The move triggered a massive condemnation, with Palestinians saying that the measure
"endorses law of the jungle."
UN for its part reiterated its point that the settlements are in breach of international law.