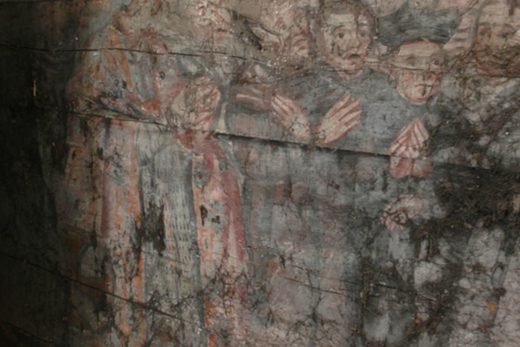 Polychromes have been discovered in a church in western Poland.
Forgotten for centuries, they were found by accident under the floorboards, where they had been protected from wear and tear.
While their colours have faded, their images of Biblical scenes, the Holy Trinity and even a dragon are clearly visible.
During the Middle Ages, the interiors of churches were often decorated with colourful paintings, known as polychromes
, yet few have survived in good condition.
The paintings were found during conservation work in the Church of Michael the Archangel in Domachowo, a village in the Wielkopolska region.
Built in the mid-16th century, the church is celebrating its 450th birthday this year. With its dark exterior and roof covered in wooden shingles, it is one of the oldest churches made of wood in Wielkopolska.
The village is in the area known as Biskupizna (literally "Bishop Lands"), which was owned by bishops in nearby Poznań during the Middle Ages.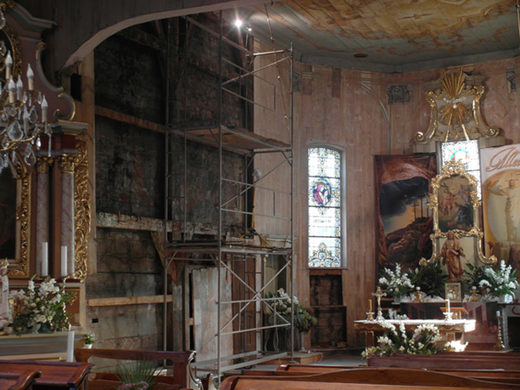 Although the church's interior has undergone conversation, the paintings were not discovered until now.
They were found by accident during works in the presbytery, when it turned out that some of the floorboards had rotten. Removing them revealed what was underneath: the church's original construction, covered in polychrome.
"For 250 years nobody had any idea that these paintings existed. Hidden behind another layer of wood, the polychrome was protected from any kind of intervention and, beyond cobwebs and the passage of time, was preserved in quite good condition," said Paweł Minta, the parish priest.
The paintings depict figures from the Old and New Testament, including a scene of the Last Supper. There is also a seven-headed dragon bound with a chain held by an angel.
For now, the polychromes' history is unclear, but Minta suggests that they
could come from the second half of the 16th Century
, shortly after the church was built. Further clues may become available as conservation work on the church continues.
The priest has named the paintings the "Domachowo Paupers' Bible" (Biblia Pauperum Domachovensis in Latin), referring to the tradition of picture Bibles during the Middle Ages.
"We unearthed each subsequent board with great enthusiasm and interest, like Columbus discovering a new continent," said Minta.
The polychromes have sparked broader interest in Domachowo itself, with villagers keen to see them for themselves.