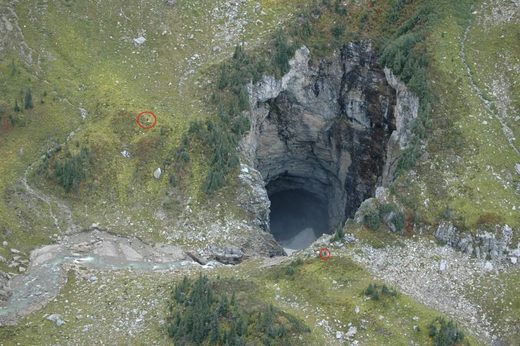 A massive pit that was spotted in a remote high alpine valley in British Columbia's Wells Gray Provincial Park earlier this year is the entrance to a previously unexplored cave of "national significance," say two members of a Canadian team that helped conduct a preliminary exploration of the site in September.
The cave "has a number of features that when combined indicate a cave of national significance"
and constitutes "a major new find in Western Canada, and promises a dramatic new chapter in the story of Canadian cave exploration," say John Pollack and Chas Yonge in a document they co-wrote that summarizes the significance of the find.
Pollack, who is a archeological surveyor, further explained the significance of the cave in an exclusive interview with
Canadian Geographic
. "I've been in some of the biggest caves in the world, and this thing has an entrance that is truly immense, and not just by Canadian standards," he said.
"The opening is 100 metres long by 60 metres wide, and when you're standing on the edge looking down into it, your line of sight is nearly 600 feet [183 metres].
You don't get lines of sight of 600 feet in Canadian caves - it just doesn't happen. And this is a shaft. It goes down quite precipitously, it had a large amount of water flowing into it and is wide open for as far down it that we've gone. The scale of this thing is just huge, and about as big as they come in Canada."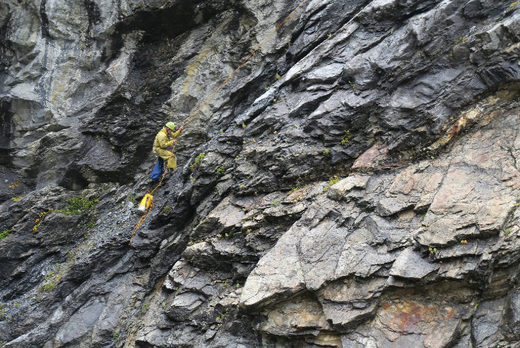 Pollack said that the pit was
spotted in April during a routine aerial caribou survey conducted by British Columbia's Ministry of Forests
, Lands, Natural Resource Operations and Rural Development, and that Bevan Ernst, a regional caribou biologist with the ministry, called it "Sarlaac Pit" (a reference to a subterranean
creature
that made a brief appearance in the film
Return of the Jedi
). Pollack added that the name Ernst gave the pit is unofficial and temporary.
BC Parks is consulting with local First Nations to determine whether a traditional Indigenous name for the cave exists.
The exact depth and size of the cave has not been determined, but Pollack said he
believes that the water flowing into it forms an underground river that emerges 2.1 kilometres away and 500 metres lower
, which gives some early indication of the cave's length. "While the
deepest cave in Canada
now exceeds 670 metres," Pollack and Yonge note in their summary, "these measurements suggest we will be facing a very deep and challenging river cave. It will be highly technical." Pollack said that future exploration of the cave is being considered in consultation with BC Parks, and that
a team is likely to be fielded in 2020.
When asked whether anyone had explored the cave before, Pollack said there was only a very remote chance anyone had ever attempted a descent, given the cave's depth and nature. "The entrance to the river sink is precipitous, intimidating and sufficiently technical that
pre-contact descent is unlikely,"
he said. "You'd need long ropes and the rope-ascending systems carried by cavers - it's very unlikely that someone would try to drop into it on a short rope of the kind carried by mountaineers. Plus, the entrance is sufficiently notable that descent attempt would have been written up by mountaineers, cavers or park staff if it had been encountered in the past 40 or 50 years. No such account exists in caving or mountaineering literature."
On Sept. 9, Pollack spent the day at the site with geologist Catherine Hickson, caver Lee Hollis, BC Parks area supervisor Tod Haughton and Ken Lancour, the helicopter pilot who Ernst was with when the entrance to the cave was spotted in April. Yonge, who is a geochemist and a renowned speleologist, did not make the journey in September but supported the team remotely by examining photos and videos of the cave.
While
Pollack used a laser instrument and 3D photographic rendering to produce a survey of the pit
and Hickson examined the geology on the surface, Hollis rigged up ropes to one side of the 61-metre waterfall that plunges into the pit and rappelled to a depth of 70 metres before climbing down 10 more metres, where the volume of water of the underground river prevented him from going any farther. "It was a privilege to make the first known descent and my focus was purely on rigging, rockfall hazards and avoiding the powerful whitewater that could have dragged me into the abyss," said Hollis, who's been caving for 31 years in Europe, North America and Asia. "This is
by far the largest and most impressive entrance pit I've ever encountered
, and during my brief descent it showed no signs of closing down. There's a lot of water thundering down there, so it will make for a sporting trip."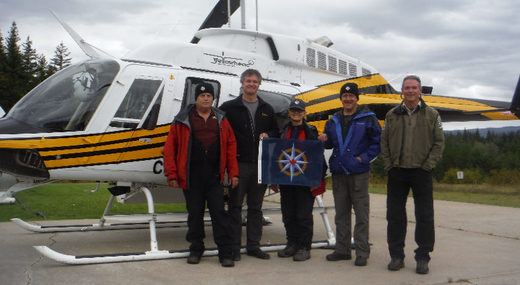 The waterfall is formed by a large stream that's fed by snowpack and glacier meltwater from a surrounding area of 10 square kilometres.
"This thing is getting pounded by a large volume of water in the spring," said Pollack. "We don't know how much, but it could be something along the order of five to 15 cubic metres per second - maybe a couple of dumptruck loads of water per second. At a higher flow, like on a hot summer day, it would definitely be in the double digits. When Lee went down, he was
right down on bedrock - there were no boulders, no gravel, no cobbles, nothing. Everything had been stripped right out of there
, which tells you that the force and volume of the water coming down in spring is gigantic."
That pounding is part of what helped form the cave. "From the evidence we see from the surface, the pit, which is simply the vertical part of the cave entrance, and the cave that leads away from it was carved into the marble by dissolution and mechanical abrasion," said Hickson. "The waters drain directly from the glaciers and are laden with silt and sand, which is highly abrasive."
Pollack wouldn't reveal the exact location of the cave, saying only that it was in the northern section of the park. Asked whether he was concerned about protecting the site, he said, "We are, but also the thing is that
this cave is truly in the middle of nowhere.
We don't even think it's feasible for someone to walk in and do anything. You might be able to reach it, but you couldn't bring in enough equipment to do anything about it. It's out there in mountainous terrain, surrounded by glaciers and at the bottom of a 45-degree avalanche slope that rises 2,000 to 2,500 feet above it, meaning you can't go to it in winter.
The only time you can really do anything there is in September, when the water flow is at its lowest.
This is a wild place."