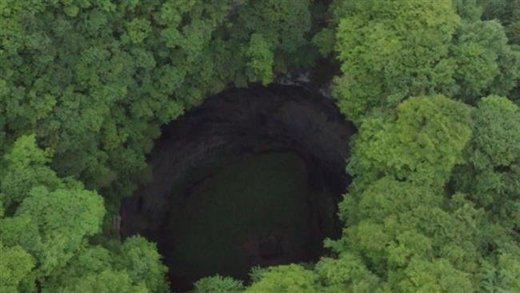 A cluster of world-class sinkholes has been discovered in northwest China. Forty-nine pit caves have also been discovered during a 4-month-survey in China's Hanzhong City located in Shaanxi Province.
The cluster includes 31 regular-sized, 17 large and 1 super-sized pit caves with the largest measuring up to 500 meters in diameter. All found caves live up to the standards of a world geological relic and are intact since they're located in places that are hard to reach.
Rare plant and animal species were also found during the survey conducted by experts from UNESCO as well as other international and local bodies.
Local governments have already started their work to utilize technical, ecological and legal methods to preserve these natural marvels. The caves are expected to contribute greatly to the study of environment and climate change in both the north and south of China.
A pit cave is usually formed of limestone as a result of long-term water erosion and can't be reached easily without professional equipment.