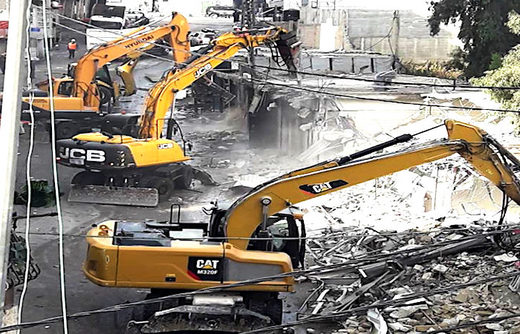 The Israeli 'High Court of Justice' has ruled in favor of expelling 700 Palestinians from their homes in the East Jerusalem Neighborhood of Silwan at the hands of right wing Israeli settlers. At least two families have already been expelled from their homes, as Israelis destroy multiple homes in Silwan.
On November 21, an Israeli 'High Court of Justice' decision was made,
to reject a Palestinian petition,
filed in an attempt to prevent the dispossession of their homes and land. The rejection of this partition, gave
the green light to a radical Israeli settler organization 'Eteret Cohanim', to begin the expulsion of at least 70 families from their homes.
Eteret Cohanim, claims that
Silwan - a Palestinian Arab neighborhood - was a Yemenite Jewish neighborhood, until 1938. Israeli law permits the "return" of "Jewish land" back to its previous owners.
Under the Ottoman Empires rule in 1899,
a Jewish Trust owned properties in Silwan, which is now used as the legal pretext for stealing both the land and property of Palestinians.
The Palestinian families of Silwan, pointed out that
the 'Jewish Trust' owned only the properties during the Ottoman era, not the land, as the land was not privately owned.
The houses which were once there, are no longer in existence, therefore there is no legal claim to be made in Israeli law, Palestinians argue.
No compensation is to be currently allocated, for the Palestinian victims of the ethnic cleansing and bulldozing of homes.