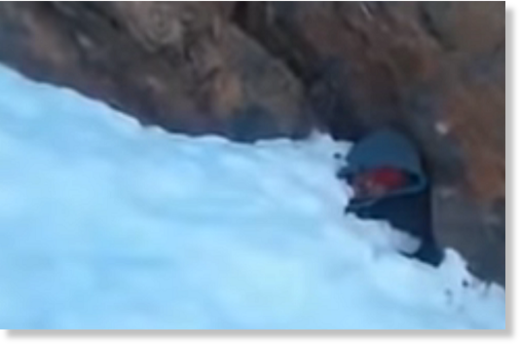 Citizens in Bouiblane mountain, in the Middle Atlas in Taza (northern Morocco), found a frozen dead body of a Moroccan shepherd who was missing for nearly a week.
A week after his disappearance, a group of inhabitants in the region of Taza found the body of Hamid Baali buried in the snow.
A video has gone viral on social media that shows the shepherd dead, frozen, and covered in snow.
The shepherd had gone to the mountain to save his flock from the snowstorm. Citizens who noticed Baali's absence called the authorities to search for the shepherd.
Social media users strongly condemned the death of the shepherd and lack of a quick response to save his life.
Internet users widely shared the shepherd picture, mourning his death and criticizing the lack of snow removal equipment to search for the missing shepherd.
One of the Facebook users expressed surprise and anger, saying that it was shocking to see civil protection members "borrowing crutches from local citizens to look for the shepherd. When they lost hope, they stepped back, while citizens continued to search for him until they found him dead, frozen in the snow."
Some Moroccan Facebook users claimed that Royal Gendarmerie members and authorities had not started searching for the shepherd until the sixth day after his disappearance.
Morocco's mountainous regions have been experiencing

low temperatures and large snowfalls since October.
Snowfalls reaching 1700m were reported on the reliefs of the High and Middle Atlas and peaks of the Rif Mountains in the end of October.
Every year, freezing weather causes discomfort and mass suffering in mountainous regions across Morocco.
Every year, King Mohammed VI instructs the government and the Mohammed V Foundation to mobilize its teams and offer humanitarian assistance to the inhabitants of the region affected by low temperatures.
Yesterday the foundation released a statement to announce the launch of a preventive medical campaign to face temperature drops in Morocco.
The first phase of the initiative was launched on November 3 in the Midelt region in central Morocco.