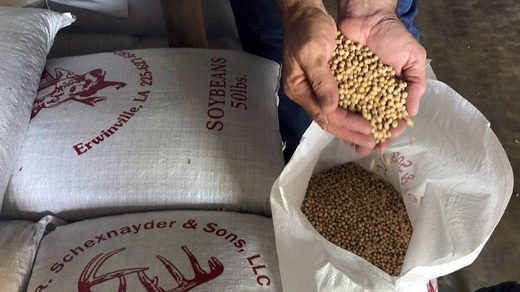 The world's biggest buyer of soybeans, China, which has been curbing purchases of the crop from US, now seeks to stop imports altogether. The move is part of the escalating trade war between the two countries.
Soybeans are used in China as a protein-rich feed for livestock (such as pigs and chickens), with more than a third of supplies coming from the United States.
Last year, American farmers sold more than $12 billion worth of soybeans to China, which is their largest export market.
One of China's top industry groups proposed this month cutting the amount of protein used in livestock feeds. It said animals could get by with less than is required at the moment. China Feed Industry Association said reliance on imported soybeans is creating a
"bottleneck"
for the country's farming industry.
"It's directly linked to the US-China trade war," said Loren Puette, the director of research firm ChinaAg in Taiwan. He told CNN that "The implication is that China will completely halt all future imports of US soybeans."
Analysts claim importing soybeans from other trade partners will be
"both expensive and inefficient."
The biggest alternative source Brazil does not produce enough soybeans to replace China's imports from the United States. The country is a long way from being able to produce the crop anywhere near enough to meet its own needs, experts add.
In July, Beijing imposed a retaliatory 25-percent import duty on US soybeans as part of the tit-for-tat trade dispute with Washington. According to Puette, China's rapid shift away from soybeans could create "chaos in the animal feed sector."
Fitch analysts said Beijing's plans to wean the country off its reliance on imported soybeans "will take time and be difficult to implement."