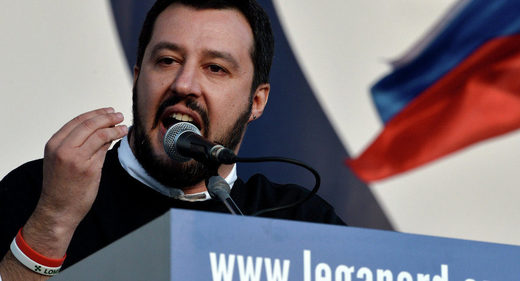 A night attack targeting the local offices of the Italian party Lega has taken place in the town of Ala; Lega party leader Matteo Salvinini is expected to arrive there in the evening.
Italian Deputy Prime Minister Matteo Salvini said on Saturday that a firecracker was thrown into the office of his right-wing Lega party in the northern Italian city of Ala on Friday night ahead of his arrival in the city for an electoral campaign rally.
Unidentified men threw an explosive at the branch office of the Italian party Lega; the blast shattered windows
In addition, the vandals scrawled "The Wind is Still Blowing" near the site, evidently quoting lyrics from an Italian red partisans' song.
Ugo Rossi, President of the province of Trentino, announced that the police had already detained two suspects.
According to the deputy prime minister, who is expected to arrive in the city later on Saturday to attend an electoral campaign rally ahead of the provincial election, the attack was perpetrated by anarchists.
"I am proud of the police and of our supporters, who have already cleaned everything up. Certain characters have understood that people of Trentino want to turn the page, and reacted to this with violence," Salvini said.
The elections in the region are scheduled for October 21.
Earlier this year, another blast took place close to a Lega branch office in the city of Villorba in the Italian region Veneto.