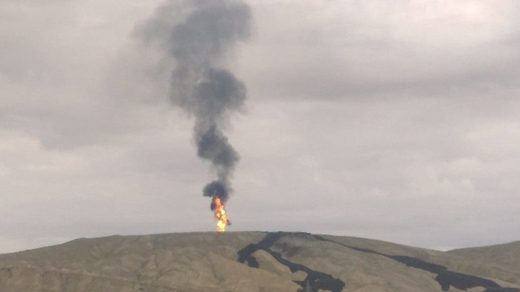 Bad weather of biblical proportions struck the Azerbaijani capital of Baku on Sunday as heavy rains flooded the city center while a mud volcano violently erupted on its outskirts, producing a pillar of fire and smoke.
Baku's mud volcano Othman-Bozdag on Sunday sent flames and smoke as high as 200-300 meters in two consecutive bursts. A statement by the Ministry of Ecology and Natural Resources said
the rare event was still in full swing.
Cracks, some as deep as 40 meters, have also appeared in the area surrounding the volcano
, the ministry warned. Luckily, no settlements are located in the immediate vicinity of the volcano.
The ominous sight came as torrential rain struck Baku in the early morning.
Water quickly flooded the city's main streets and avenues as well as some metro stations
, social media images and local media reports showed.
Mud or sedimentary volcanoes are smaller than regular volcanoes and are often associated with oil fields. Oil-rich Azerbaijan is home to approximately 400 of the world's estimated 1000 mud volcanoes, with most located along its eastern coast. Othman-Bozdag, which is known as the second largest mud volcano in the world last erupted on February 6, 2017.