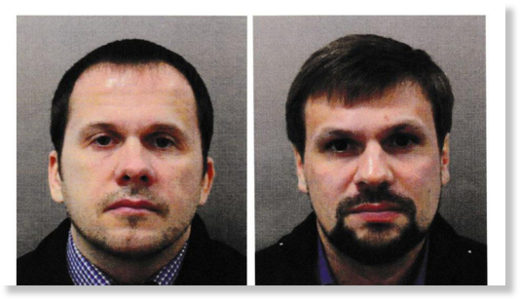 UK prosecutors named two Russians they suspect of poisoning the Skripals - Alexander Petrov and Ruslan Boshirov - charging them with the attempted murder of the ex-double agent and his daughter along with a police officer.
British police said the suspects were traveling on authentic Russian passports and had arrived in the UK days before the incident.
Neil Basu, the head of Counter Terrorism policing, said the two suspects were traveling under aliases but were around 40-years-old and had Russian passports.
Basu noted that traces of Novichok contamination were found in the London hotel room where the two men had stayed. He said they arrived in Britain on March 2 and left on March 4.
"Tests were carried out in the hotel room where the suspects had stayed. Two swabs showed contamination of Novichok of levels below that which would cause concern for public health," Basu added.
Asked if the suspects were 'Russian agents', the UK counter-terrorism chief did not directly answer, rather he appealed to the worldwide public to help identify them. "We would like to hear from anyone who knows them," Basu said.
In response, Russia's foreign ministry said the names given by Britain did not mean anything to them, urging the UK to cooperate with them in the Skripal case.
The Crown Prosecution Service (CPS) has announced that they have enough evidence to charge the two men on conspiracy to murder Sergei Skripal and the attempted murder of Skripal, his daughter and Nick Bailey, a British police officer who was taken ill while attending to the Skripals.