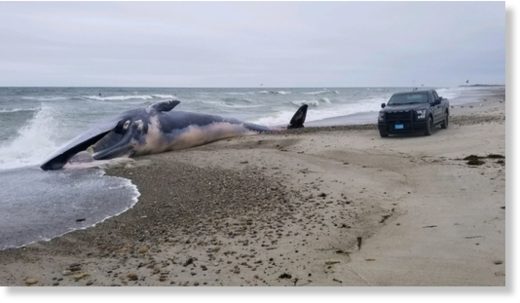 A large, dead fin whale washed ashore in Duxbury, Mass. on Monday morning, with the local police department urging citizens to stay away.
Duxbury Police Department tweeted out the image of the whale.
"A whale has washed ashore on Duxbury Beach this morning," the police department wrote in the tweet. "Immediate area of the first crossover is closed. Please stay away so Marine Biologists and Duxbury officials tend to the matter."
The police department has not yet confirmed that the whale is deceased, but the Massachusetts Whale and Dolphin Conservation told Fox News the whale is indeed dead.
They added that the whale was spotted already dead on Sunday at the
Stellwagen Bank National Marine Sanctuary,
and with the wind direction, scientists estimated it would land somewhere around Plymouth.
Beaching, also known as stranding, is a somewhat common occurence for whales and dolphins. According to Project Jonah, approximately 300 dolphins and whales strand themselves on beaches around the world each year.
Whales beach for a variety of different reasons
Project Jonah
added, though the charitable organization added that in "most cases the exact cause is unknown."
Reasons why whales strand themselves include old age or sickness, injuries or navigational errors, due in part to chasing prey or avoiding predators.