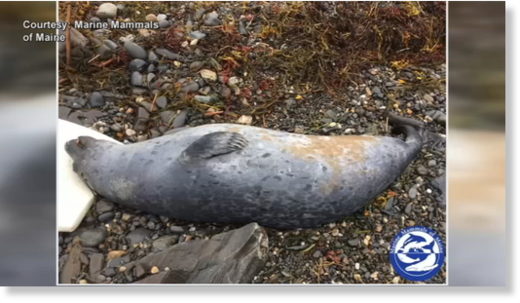 Scientists say it could take at least a week to get answers about what's causing dead seals to wash up on Southern Maine beaches.
According to the National Oceanic and Atmospheric Administration, or NOAA, 179 were reported since July 1, 114 of those in August alone.
That's three times the average for the entire month of August.
"These numbers are obviously very concerning," said Public Affairs Officer Jennifer Goebel.
Goebel said 73 other seals have been stranded on shore alive.
"We're seeing these seals come in with poor body condition and they're having signs of lethargy and coughing and sneezing, so we're thinking of the possibilty is that it could be either avian influenza or the phocine distemper virus," Goebel said.
She said they're running tests to find out, but because the disease may be infectious, NOAA isn't letting rescue groups, like Marine Mammals of Maine, take in any more live seals, so they'll have to stay where they are.
"They'll go out and do an assessment and report back, but unfortunately, right now, we don't have the capacity to take in any more animals," Goebel said.
For now, all they can do is wait.
"We are coordinating with all our partners and trying to come up with an answer as soon as we can," she said.
Back in the fall of 2011, more than 160 dead seals washed ashore between Maine and Massachusetts. In that case, the deaths were blamed on a new strain of the bird flu.