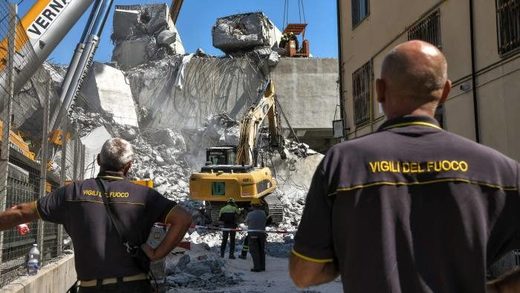 Across the west, the case for more public spending on infrastructure is unanswerable
Anyone who lives in Minneapolis will understand the anger and grief of people in Genoa this weekend. Eleven years ago, an eight-lane interstate highway bridge over the Mississippi river in downtown Minneapolis collapsed, killing 13 people. The similarities between the tragedy in Minnesota and that in the northern Italian city on Monday are painfully striking. They underline that decaying infrastructure is not a purely Italian problem, but a scourge found in many of the world's most advanced economies.
Like Genoa's Morandi bridge, whose collapse killed at least 38 people, the bridge in Minneapolis was opened in 1967. Just as the US National Transportation Safety Board concluded that a design flaw in the bridge had contributed to the 2007 collapse, so Italian prosecutors are investigating whether the Genoa disaster had a similar cause.
In each case, the volume of traffic passing over the bridge in the years before its collapse was much greater than had been foreseen during its construction in the 1960s.
The parallels between the US and Italian experiences do not stop there.
In a nutshell, neither country spends as much public money as it should on bridges, roads, tunnels and other infrastructure.
More than once, President Donald Trump has likened
the US to a "Third World country"
when it comes to infrastructure. Ray LaHood, transportation secretary under Barack Obama from 2009 to 2013, says the US is "one big pothole". Every four years the American Society of Civil Engineers publishes a report card on the nation's infrastructure. Last year the association awarded the US a miserable D+.
The story is no different in Italy. Public investment in infrastructure slumped after the 2008 financial crisis, which plunged the nation into successive recessions. But the problem has deeper roots.
In 2009, Mario Draghi, the European Central Bank president, who was then governor of Italy's central bank, said: "In the last 20 years the gap between Italy's infrastructure endowment and that of the other leading EU countries has more than tripled . . . The list of high-priority strategic infrastructure projects, originally 21, has now swollen to over 200. The time and the costs for high-speed rail lines and motorway network extensions, and even for short road links and bypasses, are far greater than in other European countries."
It is a far cry from the 1950s and 1960s, when Italy's post-second world war economic boom enabled governments to build a motorway network that was the envy of Europe. The Christian Democrat-led governments of that era were close to Fiat, Italy's iconic car company. It was never far from politicians' minds that a modern motorway system, as well as low petrol prices and lukewarm encouragement of competition from public transport, would benefit Fiat.
For several decades, however, Italy was the winner. The Morandi bridge was an unforgettable part of the journey for countless holidaymakers driving their cars from southern France through Genoa to the cities and coastlines of the rest of Italy.
However, if the bridge once drew praise as a model of Italian engineering, its collapse now stands as a grim metaphor for national decline.
After Monday's disaster Matteo Salvini, Italy's interior minister and leader of the far-right League party, blamed the eurozone's strict rules on budget deficits for Italy's under-investment in infrastructure. It was a cheap political point, and the European Commission swiftly rejected his claim. A bigger constraint is the crushing burden of interest payments on Italy's public debt, which amounts to about 132 per cent of annual economic output.
Every year Italy must spend tens of billions of euros on interest payments, some of which could in principle be allocated to building and repairing bridges and roads.
However, even Germany, which effortlessly runs annual budget surpluses, has an infrastructure problem. The bridge over the Rhine at Leverkusen, one of Germany's busiest transport arteries, was closed to heavy goods vehicles in 2012 after cracks were discovered in its concrete. A replacement is not due to open until 2020. According to KfW, a state-owned development bank,
Germany's cities, towns and rural areas have an "investment gap" of €126bn.
Matters stand somewhat differently, but no better, in the UK.
Governments of all political stripes tend to neglect unglamorous, small-scale infrastructure projects and repair work in favour of ostentatious schemes with predictably spiralling costs.
The High Speed 2 railway link between London and northern England, and the Hinkley Point nuclear power plant, are cases in point. The UK led the world in experimenting with private sector involvement in infrastructure projects, but it turns out that the
use of private finance is more expensive than old-fashioned public expenditure.
Across much of the western world the case for more government spending on infrastructure is unanswerable. Of course, it requires politicians to address controversial questions of taxation, spending priorities and state borrowing. But unless these questions are addressed, the next catastrophic bridge collapse is only a matter of time.