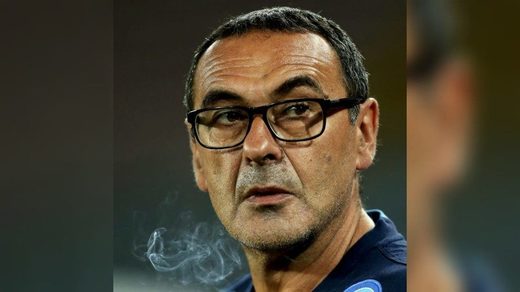 Maurizio Sarri, recently appointed as Antonio Conte's replacement at Stamford Bridge, was known for smoking on the sidelines while at Napoli but was forced to find a workaround because of the smoking ban at EPL stadiums.
Sarri, the 59-year-old Italian charged with resurrecting a Chelsea side which fell stagnant during the stewardship of former head coach Antonio Conte, started his Premiership career with a 3-0 win away to Huddersfield Town in the first round of games of the new English season this weekend.
The Italian, famous for indulging his tobacco habit on the touchlines of the grounds in Serie A, has been forced to abide by rules governing English stadiums which forbid smoking - and he apparently did so by chewing unlit cigarettes during his Premiership debut.
The new boss got his brand of football known as 'Sarri-ball' off to a winning start at Huddersfield's Kirklees Stadium, as goals from N'Golo Kante, Jorginho, and Pedro earned three points for the West London club, but it wasn't just the action on the pitch which proved notable.
Sarri was spotted on numerous occasions during his career in Italy smoking in stadiums, or on the sidelines, such as the clip below where he lit up in the company of two bodyguards.
When Sarri's Napoli team played RB Leipzig in a European tie, the German club set up a specially designed smoking room for him, though this won't be possible during his tenure at Chelsea.
Maybe it's time to invest in some nicotine patches, Maurizio?