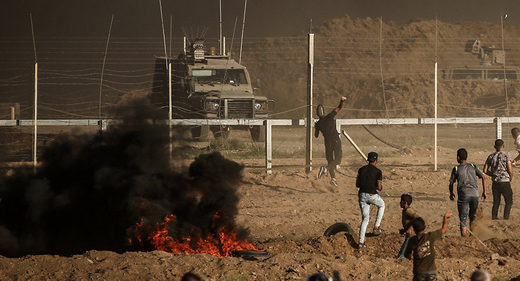 A third Palestinian protester has died of wounds he sustained in Friday's clashes with Israeli soldiers on the Gaza border, Gaza Healthcare Ministry spokesman Ashraf Qidra told Sputnik on Saturday.
Qidra said on Friday that
at least two Palestinians were killed and 242 injured
in clashes with the Israeli troops on the Gaza border.
"A 40-year-old Palestinian from the city of Rafah has died this morning of severe injuries he sustained [on Friday] in clashes with the Israeli army at the southeastern border of the Gaza Strip," Qidra said.
The Israel Defense Forces (IDF) said in a press release that the clashes occurred after about 9,000 Palestinians gathered along the border.
According to the medics, the man is
the 167th Palestinian killed since the beginning of the Great March of Return
- a series of Palestinian protests ongoing since late March.
The protests took place took place amid the recent exchange of fire between Israel and Palestine, which started late Wednesday. According to the IDF, the Palestinian side has launched about 180 rockets and mortar shells from the Gaza territory.
The shelling wounded seven Israelis. Responding to these attacks, the IDF carried out about 150 airstrikes
, targeting military in the Gaza Strip. As the Palestinian health authorities reported, the Israeli strikes killed three and injured some 12 people.

Comment: Can 150 bullets be compared to 150 stones?