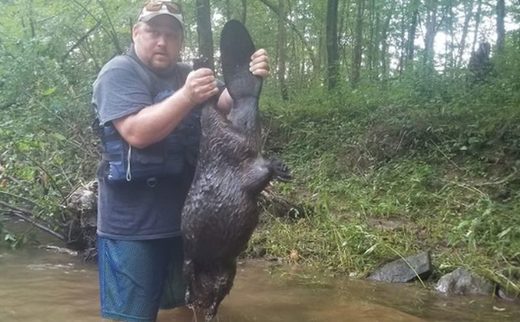 A Pennsylvania man and his daughter said they were attacked by a large beaver while they were kayaking in Adams County on Aug. 5.
Dan Wherley and Layla, 7, were kakaying down Conewago Creek when the beaver came close to them.
"I looked, and it was a beaver scratching at it, and I thought 'Wow, that's pretty cool-a beaver came up to us!' It wouldn't stop, so I used my paddle tried to hit it to get it away, and it just wouldn't stop, wouldn't stop," Wherley told
WPMT-TV in a report on Aug. 9.
"The beaver came up to the kayak, and tried to get in the kayak," said Layla.
"I jumped out of my kayak and ran to her. I got to her kayak the same time the beaver did, it climbed up on the back of her kayak, started to, and
I had to punch it to get it off
, cause I didn't have anything with me," added Wherley in the report.
Wherley said he was able to kill the beaver when it followed them to the river's shore.
"I was just worrying about her getting bit. That would've been horrible. I couldn't imagine," Wherley told WPMT.
In a Facebook post
, he revealed more details about the beaver and the attack, saying that
the animal was rabid.
"It was a big [expletive] crazy beaver," he wrote, adding:
"It kept trying to bite and get into the kayak after me. I kept beating it with the paddle, this went one for a few minutes. It wouldn't give up."
Wherley said that when it wouldn't give up, he began punching it. "I was punching, kicking and trying to get away from it. I ran to the bank with Layla and it followed me still trying to attack us," he wrote.
The attack persisted when they got to land, forcing the desperate dad to smash it with rocks.
But the beaver still didn't stop.
"After about 5 more big rocks to the head it swam away a little bit, then came right back.
I grabbed a big stick and smacked it on the head 5 times as hard as I could and the last hit crushed it's skull," he wrote.
"It sounds like a damn horror movie the way she [was] screaming and the water splashing," Wherley wrote of a video he shot of the beaver. "I'm just glad it didn't bite either of us. Our sissy bloodhound hid safely in the weeds far away during all of this."
A Pennsylvania man and his daughter said they were attacked by a large beaver while they were kayaking in Adams County. (Dan Wherley/ Facebook) Beaver Was Rabid
The Pennsylvania Game Commission confirmed to WPMT that the beaver had rabies. Wherley and his daughter had to get shots.
Adams County officials say it's the first time there has been a rabid beaver in the county, which is located near the border with Maryland.
According
to the U.S. Centers for Disease Control and Prevention, "Rabies is a preventable viral disease of mammals most often transmitted through the bite of a rabid animal," and the "vast majority of rabies cases" each year occur in raccoons, skunks, bats, and foxes.
"Early symptoms of rabies in people are similar to that of many other illnesses, including fever, headache, and general weakness or discomfort," the CDC says. More advanced symptoms include insomnia, anxiety, confusion, slight or partial paralysis, excitation, hallucinations, agitation, hypersalivation, difficulty swallowing, and hydrophobia (fear of water).