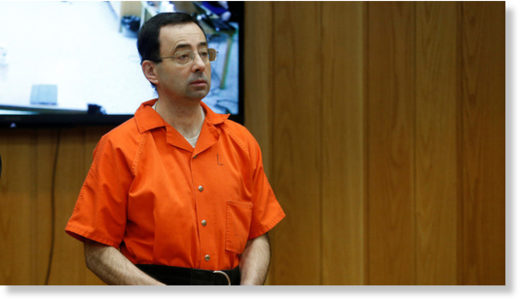 Attorneys for disgraced former US Gymnastics doctor Larry Nassar are seeking re-sentencing over sexual assault charges and want the judge in the first of the major molestation cases he faced to be disqualified.
Nassar is serving a 60-year federal sentence for possession child pornography and has also been handed a jail term of up to 175 years for molesting young athletes - which he will serve if he survives the federal sentence.
He filed two motions on Tuesday through his attorneys with Ingham County Circuit Court, where he was sentenced by Judge Rosemarie Aquilina back in January after testimony from more than 150 women.
One of the motions filed on behalf of Nassar seeks a re-sentencing to change what is claimed to be an invalid sentence, according to the
Lansing State Journal
.
The other motions calls for the disqualification of Judge Aquilina, who originally said she had signed Nassar's "death warrant" when issuing the sentence of up to 175 years.
The motions also argue that Judge Aquilina had been "admittedly not an unbiased and impartial judge" and had attempted to "demonize [Nassar] in front of the entire world."
Nassar appealed his 60-year federal sentence in April, arguing that the federal judge had made an error by using sexual assault convictions in state court when he had not been sentenced for them at the time.
The appeal also argued that it was incorrect for the federal judge to order state sentences to be served after the federal sentence. A ruling on the matter has not been issued.
Nassar worked for nearly 30 years as the US gymnastics team physician, and repeatedly molested under-aged gymnasts under the guise of medical treatment.
Victims of Larry Nassar, led by three-time Olympic champion Aly Raisman, were recently honored with the Arthur Ashe Award for Courage in recognition of their efforts to come forward with stories of sexual abuse.