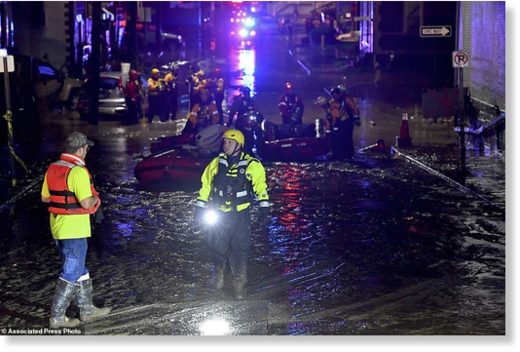 A woman was found drowned in a creek and cars washed away down streets on Wednesday
after a violent storm dumped nearly four inches of rain on parts of western Pennsylvania.
The body of 64-year-old Wendy Abbott was discovered in McLaughlin Run, Bridgeville, after she was swept away during flash floods. Abbott, who lived locally, was reported missing by family after going for a drive.
Floods also ravaged nearby Bethel Park where diners at the Trolley Shop Inn stood on tables as they waited to be rescued while cars floated in surging floodwaters outside.
'All of a sudden, water started coming in the one door and they tried to squeegee it,' patron Shirley Maurin told the
Pittsburgh Post-Gazette
. 'And then it just rushed in.'
Maurin said the water rose quickly, forcing diners on top of tables 'until they were able to come in and take us out one by one in the water with the life jackets'.
Emergency workers had a busy Wednesday night, with swift-water rescue teams in Allegheny County taking part in at least 66 rescues.
Meanwhile, crews in Westmoreland County saved residents from about 30 houses, including a couple from their roof.
On Thursday, volunteers helped clear debris from the Bethel Park Trolley Stop, whose owner said he didn't have flood insurance.
Outside the building, a car's back end balanced precariously atop a chair.
Officials in Bethel Park and neighboring Upper St Clair declared states of emergency.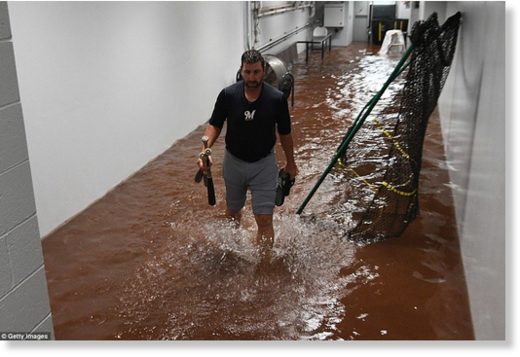 The floodwaters damaged an unknown number of homes and businesses, smashing windows and leaving a muddy mess.
The flooding also disrupted rail service in the region and forced the cancellation of the Pittsburgh Pirates game amid flooding in portions of PNC Park.
The weather outlook looks mixed for the next few days, with rain showers and possible thunderstorms lasting until Monday. However, there are currently no flood warnings in effect, according to accuweather.