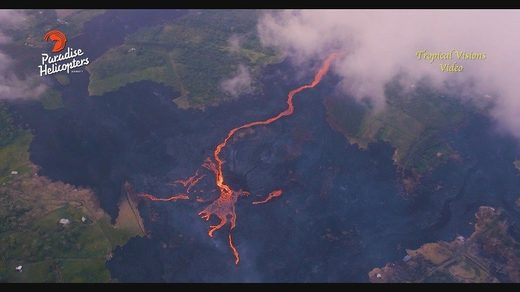 Since lava broke to the surface, it has overrun 5,914 acres of land, or roughly nine and a quarter square miles.
The total number of homes destroyed stands at 467.
Seismic activity is on an almost predictable cycle
after another strong earthquake Saturday morning.
A large explosion happened just after 10:20 a.m. at the summit of Kilauea. Officials say it had the energy of a 5.3 magnitude earthquake.
No tsunami was generated.
Air quality remains an issue as gasses and ash clog the air. USGS reports that the eruption from the lower East Rift Zone remains steady in Leilani Estates with few changes taking place over the past few days.
On Saturday, lava fountains from fissure no. 8 reached heights of about 170 feet into the air.
With the fast-moving flow, it was a similar scene all week.
Lava is still flowing through the well-established channel from fissure no. 8 to the ocean at Kapoho.
The USGS says that occasionally lava spills over the channel levees, and that the ocean entry remains fairly broad with laze being blown onshore.
A Friday afternoon overflight found the fissure no. 8 vent, channel, and entry remain stable with a small amount of expansion at the southern boundary of the flow near the coast and south of Vacationland.
The overflight revealed that fissure no. 24 (southeast of fissure no. 8) seemed to be steaming and fuming more.
Fissure no. 9 (southeast of fissure no. 24) appeared hotter and according to officials it will be checked on by ground crews Friday evening.
The USGS also reports that fissures no. 16 and 18 continue to ooze some lava.
Seismicity increased overnight Thursday at the Kilauea Volcano Summit, climbing to about 40 events per hour with up to five earthquakes per hour that were greater than magnitude-3.
The latest large earthquake to strike the summit happened around noon Friday, measuring at a magnitude of 5.3, but it was not powerful enough to generate a tsunami, the Pacific Tsunami Warning Center said.
Friday marked the fifth day in a row that there was an earthquake above a magnitude of 5.0 at the summit.
The USGS reports that many of these earthquakes were felt in the Volcano area.
Inward slumping of the rim and walls of Halemaumau continues in response to ongoing subsidence at the summit.
Friday morning officials said that lower levels of sulfur dioxide gas and minor amounts of ash are being transported downwind, with small bursts of ash and gas accompanying intermittent explosive activity.
Experts expect heavier vog to blanket the interior and southern parts of the Big Island, wrapping around to Kona through the weekend.
The Department of Health recommends that residents with breathing issues should limit outside activities and stay indoors.
Several residents have reported symptoms such as itchy throats and watery eyes and noses in response to the affected air quality.
Hawaii County Civil Defense said this week that it's beginning to scale back operations
because while lava continues to spew from the earth at a high rate, it's flowing over areas that have already been covered and hitting the sea off coastal communities that have already been destroyed.
"We've pretty much thrown everything at this event for the past month and half now," said Talmadge Magno, civil defense administrator. "Some aspects of it can kind of start to scale down as the volcano somewhat runs into a stable situation."

Comment: What exactly is stable about this situation??


Last week, authorities allowed some Leilani Estates residents to return and about
half of the subdivision's residents are now back full time,
Magno said. The other half live in a part of the subdivision that remains under a mandatory evacuation order.
Magno stressed that civil defense will remain activated round the clock, and that residents should remain vigilant.
Eruptions on the Big Island started May 3
, forcing thousands to flee their homes. Last week, the state pledged $12 million to help Hawaii County pay for the mounting costs of responding to Kilauea's ongoing eruptions, while a host of other organizations have sought to begin efforts to house evacuees.
Already, the county has shelled out at least $3 million for disaster response, according to officials.
You can see the news report here.