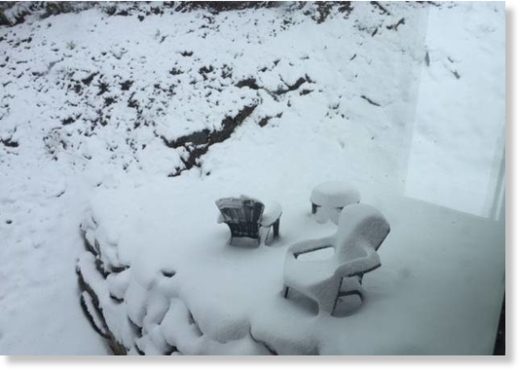 Welcome to Canada where seasons mean nothing and the weather changes in the blink of an eye. The latest victim of Canada's unpredictable weather patterns is none other than our western most province, British Columbia.
BC was hit this past weekend with about a foot of snow in some areas, or for those of us using the metric system, anywhere from 22 -

40 cms

of snow accumulated in parts of the province.
A lot of BC residents were obviously shocked by the sudden snowfall, among them ski resorts who were getting set to open their mountain biking trails soon.
People shared photos and videos of the snow on Twitter, using measuring tapes to show it's depth and one tweet even shows what is apparently a snow measuring sign completely covered in a white powdery blanket.
It may be June but one of the biggest snowfalls this weekend was in ...Canada! Reports of snowfall @SilverStarMR Resort in BC give accumulation totals of 22-40cm in the last 24 hours. The cam image shows a buried snow measuring stick. Powder day? pic.twitter.com/pp0t7fDza1

— Snow Forecast.com (@SnowForecast) June 11, 2018
While some residents are complaining about the sudden snowfall, others are celebrating that it's not the opposite situation, forest fires.
The weather certainly lowered the risk of fires in the northern part of the province, where the risk had recently been elevated prior to the snowfall. Forest fire season generally runs all throughout the summer, from April to October, meaning BC would be right in the middle of it right now.