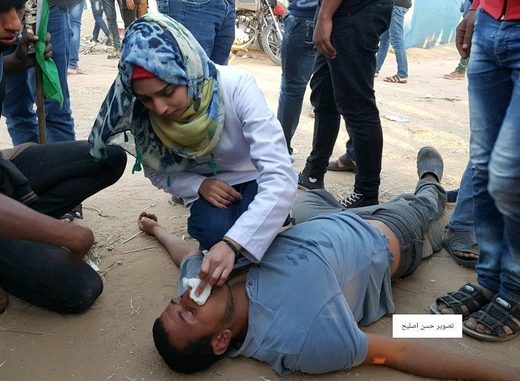 Last Friday, Palestinian Gazan medic Razan al-Najjar was
killed
by an Israeli sniper live round to her upper body, while attending to the wounded during Friday's Great March of Return protests near the Gaza fence. She was clearly marked with an official white uniform jacket, and at a distance of about
100 meters
from the fence.
This site
cited
Asaf Ronel of
Haaretz,
who tweeted:
"It's unlikely that a sniper deliberately killed Razan al-Najjar. Her death is an expected result of repeated use of live fire by Israeli soldiers to prevent medical care in #Gaza (in addition to illegal & immoral use of snipers against unarmed protesters)".
This is somewhat confusing, and the duplicity may not be noticed at first glance. On the one hand, Ronel admits to a repeated use of live fire against medical personnel - but on the other hand, suggests that al-Najjar was
not
deliberately killed. What does it mean, that al-Najjar was
likely
targeted, yet
unlikely
killed?
The formulation is so confusing, that Mondoweiss editors in fact took Ronel's assertion to mean that she was not targeted. The heading to the tweet: "Ronel says al-Najjar was not likely targeted when she was killed".
But is that what Ronel is saying? Not really. He's saying that it was "unlikely" that she was "deliberately
killed
", while he doesn't seem to contest that she was deliberately
targeted
.
Now, why is this perhaps seemingly pedantic distinction so important? For a few reasons:
Such a horrific record doesn't exactly suggest that this is the "most moral army in the world", to use the repeated Israeli-apologia claim.
In conclusion, it is not at all "unlikely" that Razan al-Najjar was deliberately killed - that is - murdered.
The Israeli policy, that is the rules of engagement, now endorsed by its highest judicial authority, are murderous in themselves. Having targeted her is a war-crime in itself, kill or no kill.
On top of that, the possibility of a deliberate killing - murder - is completely relevant. Israel needs no assumptions of innocence on its behalf. It has plenty of that from itself.