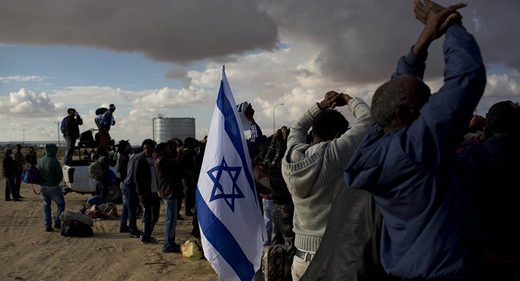 In a state statement, Israel said it will stop holding pre-deportation hearings for the asylum seekers and all previous decisions to forcefully deport the Africans living in the country have now been nullified.
Israeli authorities on Tuesday admitted that their plan to relocate African asylum seekers has collapsed, adding that there is no opportunity to deport Africans from the country.
The
forced removal of the asylum seekers - mostly men from Eritrea and Sudan - "is no longer on the agenda,"
the Israeli government said in a written statement but added that it will keep looking for options to deport people voluntarily.
"Israel's immigration officials will
continue to refer to infiltrators to the 'voluntary departure' office
allowing them to move to a third country, but without conditioning the renewal of their legal status of their willingness to leave to a third country," the authorities stated.
In the wake of the announcement, Prime Minister Benjamin Netanyahu
ordered the early reopening of the country's detention facilities for asylum seekers.
Earlier on Monday, a group of lawmakers sent a letter to Netanyahu, in which they expressed their concern over the prime minister's earlier decision to annul an agreement with the UN Refugee Agency (UNHCR) on the relocation of African migrants.
This comes as renowned Hollywood actress Natalie Portman has refused to appear at a ceremony in Jerusalem in protest at Israeli Prime Minister Netanyahu's policies. She didn't specify the exact reasons for turning down the event, but her representatives said she was troubled by
"recent events"
in the country.
Israeli authorities have been handing out notices to asylum seekers from Eritrea and Sudan since the beginning of the year. The asylum seekers were given three months to decide to leave the country on condition they're given a plane ticket and $3,500. The deal stipulated that they would be jailed if they fail to leave the country.
In early April, Netanyahu announced that he had canceled the newly announced agreement, which stipulated granting temporary residence to half of the African migrants in Israel with the relocation of the rest to Western countries.
Since 2013, some 4,000 migrants have left Israel for Rwanda and Uganda under Israel's voluntary program. However, right-wingers have been pressing Prime Minister Benjamin Netanyahu to expel more.
According to the Israeli government, 37,000 migrants are looking for jobs in Israel. Migrants and rights groups say they are seeking asylum and are fleeing war and persecution.