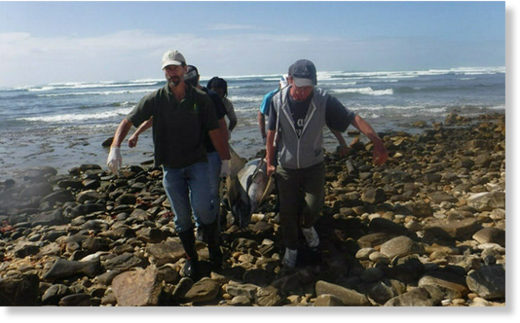 Another dolphin has washed ashore in Algoa Bay, the second such stranding since last week.
The adult common dolphin was found dead in a tidal pool on the beach at Cape Recife Nature Reserve this morning.
This brings the total number of dead dolphins found on the Bay shores to 11 in less than two weeks.
Bayworld staff rushed out to the reserve where the adult female common dolphin was found.
Last Monday, 14 common dolphins stranded on the beach in the Woody Cape Nature Reserve section of the Addo Elephant National Park.
Of the 14 dolphins, four were helped to swam back out to sea.
Bayworld marine biologist Dr Greg Hofmeyr said the dead dolphin was found about 100m from the lighthouse by people walking on the beach at about 11am.
The concerned passersby alerted the nearby Southern African Foundation for the Conservation of Coastal Birds (Sanccob), which is also based in the reserve, and they in turn contacted the stranding experts at Bayworld.
"We immediately assembled a team and went out to the beach where the dolphin was found.
"The dolphin had several gashes and cuts on her body which were likely sustained when she swam over the rocks while in the process of beaching," he said.
"A postmortem still has to be conducted, during which time we will take samples for testing to ascertain if she was sick or had any diseases."
Hofmeyr said it was possible the dolphin could be one of the four saved last week by a group of five Nelson Mandela University zoology students.
The students stumbled onto the stranded animals - of which only four were alive - during a research outing at the nature reserve.
The dolphins were found on an isolated section of beach about 31km from the Sundays River Mouth.
"It is possibly one of those rescued last week. However, there is no evidence of extensive sunburn. We know that the four animals returned to the sea had been sunburnt," he said.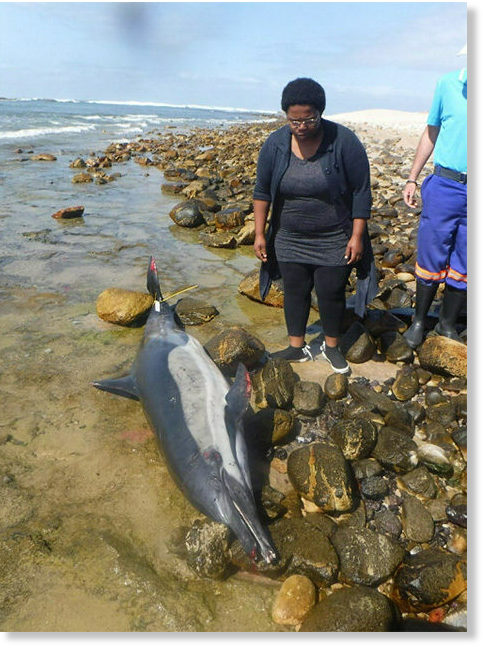 Hofmeyr explained that this time of year was the start of the sardine run, which attracted dolphins to the Bay.
"One theory is that these dolphins are coming into the bay to take advantage of the onset of the Sardine Run. This could explain why these strandings are taking place around this time of year."
Reasons as to why dolphins and whales strand all over the world remain unknown.
Last week Hofmeyr said rescued dolphins often washed ashore a couple of days later - possibly due to injuries sustained during the stranding.
The Bayworld team would remain on standby in case the rescued dolphins washed ashore.
Last year in March, 38 dolphin carcasses were found scattered along the Sundays River coastline - only 10km from where this week's stranding occurred.
This marks the sixth reported stranding on the same stretch of beach over the past 40 years. In March 2000, 28 common dolphins beached around the same spot.